Date posted: October 12, 2012
The Rumi Forum, a nongovernmental organization established in the United States to improve interfaith and intercultural dialogue, gave its traditional Rumi Peace and Dialogue Awards in a ceremony held in Washington on Wednesday. Farah Pandith, US Special Representative to Muslim Communities, Hannah Rosenthal, the US special envoy on anti-Semitism, and Martin O'Malley, the governor of Maryland, were all recipients of the Extraordinary Commitment to Service Award in the ceremony.
Theodore McCarrick, an American Cardinal of the Roman Catholic Church, was given the Extraordinary Commitment to Peace Award, while Ajla Delkic, the executive director of the Advisory Council for Bosnia and Herzegovina, was honored with Extraordinary Commitment to Establishing Peace and the Youth Award.
Pandith gave a speech on the significance of establishing a world based on mutual respect between peoples and noted the special significance that the Rumi Forum has in establishing such a world.
Rosenthal, in an audio recording, gave a speech underlining a current period in which intolerance, bigotry and extreme nationalism are prevalent throughout the world. The envoy also said that sending messages to garner mutual respect and fighting hate crimes is more important than ever. Rosenthal thanked the Rumi Forum for its service in this regard.
In another audio recording, Governor O'Malley expressed his feelings about being deemed worthy of the award. "The state of Maryland commends the work of the Rumi Forum in improving education, supporting the needs of our people and celebrating diversity," said O'Malley.
Meanwhile, Cardinal McCarrick emphasized the significance of religious dialogue, quoting Sufi philosopher and poet Mevlana, "The most important duty of people in life is not to search for love, but to look for the obstacles we put in front of love and remove them." McCarrick said people are able to praise what others defend when they engage in dialogue with one another. "People should work together. We cannot individually change the world, but, if we do what Mevlana called on us to do and get rid of the burdens of hate and discrimination against others, as well as selfishness, we will become people who are free to change the world," said McCarrick.
After the ceremony, the honorees posed for a group photo together with the Rumi Forum chairman, Emre Çelik. Turkish Ambassador to the US Namık Tan was also in attendance at the ceremony.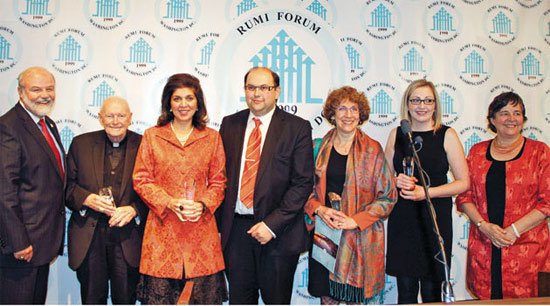 Source: TODAY'S ZAMAN 11 October 2012
Tags: Dialogue | North America | Peace awards | USA |