Date posted: September 30, 2014
İBRAHİM ÇELİK / ŞANLIURFA
Kimse Yok Mu (Is Anybody There) has sent TL 50 million worth of aid to Syrian Kurds who have fled from the town of Kobane to take refuge in Suruç, a district of Şanlıurfa province.
The philanthropic group has distributed 15,000 aid packages to refugees in the week before the upcoming Eid al-Adha holiday. Two truckloads of winter clothing were also sent for the coming cold weather.
The group, which serves people in need all over the world, has not forgotten about the Syrians in Turkey. The aid packages it has distributed included food like korma, rice, potatoes, beans and canned chickpeas.
Fevzi Şahin, president of Kimse Yok Mu's Şanlıurfa branch, explained that immense difficulties have ravaged the Syrian Kurds; he also explained that it is important that the Turkish people lend a brotherly hand to their neighbors during this difficult time. He added, "We are here for those who have escaped to Suruç from the civil war in northern Syria and for those Syrian Kurds who escaped the tyranny of the Islamic State in Iraq and the Levant [ISIL]."
Şahin went on: "The sights I have seen are deplorable, from the scenes at the courtyard of the mosque in Suruç to the families of those who have lost their loved ones; it breaks my heart. In just the courtyard of the Ahmet Bican Mosque alone there are 20 to 25 Syrian families sleeping there. These people really do not have the means or the time to make food. And today, Kimse Yok Mu is here in the city of Şanlıurfa to distribute aid to 1,500 Syrian families."
The winter season is beginning to show itself, explained Şahin, saying: "Our Syrian refugee brothers and sisters ran away from the tyranny of ISIL and left their belongings behind. We have observed that they did not have a chance to bring their [bed] comforters or winter clothing. We have ordered one truckload of winter clothing and one truckload of boots so that these people do not freeze. These will hopefully be delivered to the war victims before Eid al-Adha."
Halil Bozan, a Syrian refugee who escaped from the ISIL threat with his seven children, commented on the aid he and his family have received from Kimse Yok Mu, saying: "God bless Turkey and Turkish charities. From day one, they have opened their doors for humanitarian aid. However much we thank Turkey as a neighbor state, it will not be enough."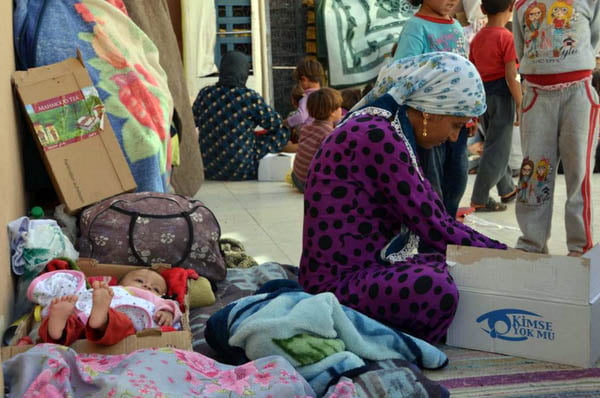 Source: Today's Zaman , September 29, 2014
Tags: Humanitarian aid | Peacebuilding | Syria |