Date posted: January 16, 2013
Cihan News Agency
Afghan-Turkish Cag Education Foundation is awarded with 'Kabul Regional Medal' by Ayyub Salengi, the Chief Commanding Officer of Kabul Police.
Chief Ayyub Salengi paid a visit to Mr. Numan Dogan, CEO of Cag Education Foundation. Salengi praised Turkish schools and said: "Afghan-Turkish schools give high quality education. I saw the beautiful education services of Turkish and Afghan teachers at these schools" He awarded Afghan-Turkish schools with the Kabul Regional Medal because of their services and high quality education.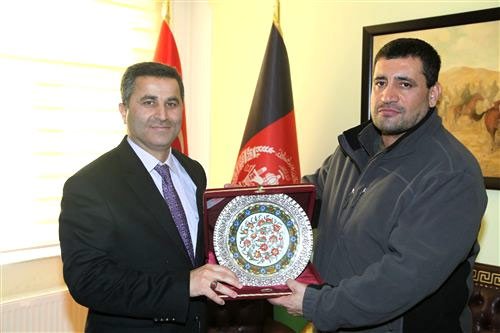 Source: Zaman Newspaper January 12, 2013
Disclaimer: The original news is in Turkish. Slight deviations from the original meaning may have occurred due to the difficulties in translating phrases and idioms. PII volunteers translated the article.
Tags: Afghanistan | Asia | Education | Hizmet-inspired schools |