Date posted: October 7, 2013
About 90 percent of the Turkish public believe the Kurdish question cannot be settled through military means but by democratization, and that expanding cultural rights and negotiating are the answers that will finally produce a settlement for Turkey's decades-long problem with separatist terrorism, according to a recent survey conducted by pollster MetroPOLL.
The results of MetroPOLL's research come from two surveys: one conducted in 31 provinces on Sept. 21-27 among 1,208 individuals via telephone and another one on Sept. 5-13 only in Ankara among 1,800 individuals. The poll conducted in Ankara focused specifically on voting patterns of the respondents. The research team was led by Professor Özer Sencar and included academics İhsan Dağı, Doğu Ergil, Sıtkı Yıldız and Vahap Coşkun.
The most outstanding finding of the poll was that a majority of the respondents say democratizing reforms are the only viable way to solve the decades-long Kurdish issue. In response to a question on how the Kurdish issue can be solved permanently, 36 percent replied, "Through dialogue and negotiations," while 50 percent said, "Democratizing reforms without talking directly to the Kurdistan Workers' Party [PKK]." Only 8 percent agreed with "armed fight by the military" as a valid method. The researchers say this is a significant finding, indicating that nearly 90 percent of the population do not believe anymore in security-oriented approaches but supports negotiations and democratization reforms as viable options for a settlement. Even among Nationalist Movement Party (MHP) supporters, the weight of those who supported fighting the PKK as the right way to deal with separatism was only 17 percent.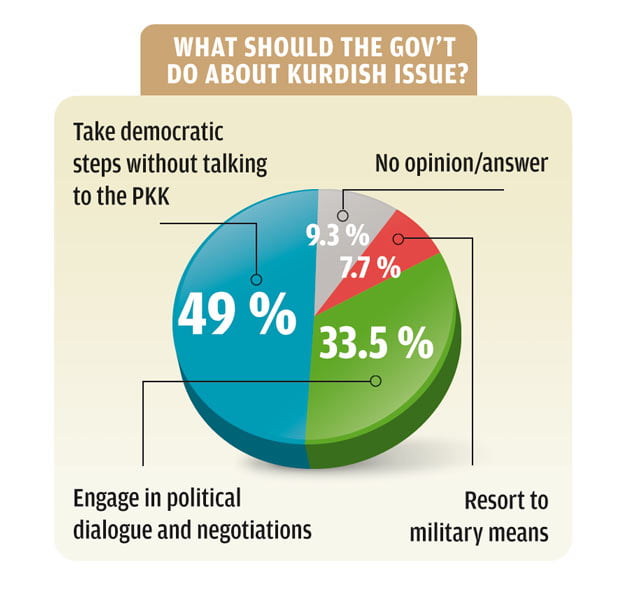 The respondents also believe there should be red lines in negotiations. Seventy-one percent responded negatively to a question inquiring whether the state should improve the prison conditions of PKK's jailed leader Abdullah Öcalan, with only 18 percent believing it should. The PKK has named better conditions for Öcalan as a primarily issue of importance in the ongoing settlement process, which started in the form of talks between the government and Öcalan in late 2012. Not surprisingly, 79 percent of Peace and Democracy Party (BDP) voters said Öcalan's conditions should be improved. Öcalan has been in solitary confinement on İmralı, an island off İstanbul's coast, although several inmates were moved to the island at some point. The BDP and the PKK want Öcalan to serve the rest of his life sentence under house arrest.
Fifty-four percent of respondents believe the settlement process has strengthened the PKK, while 30 percent believe it has weakened it. The PKK announced a cease-fire in March this year, which was supposed to be followed by a withdrawal of its militants from Turkish soil, but this has not happened to a satisfactory extent as of yet. The researchers also noted that the idea that the PKK has gained an upper hand since the start of the process is higher among those with higher levels of educational background. Only 21 percent of respondents with lower levels of education agreed that the process made the PKK stronger, while 67 percent of those with a university education or higher agreed with this view. The researchers concluded that the higher a person's education level, the more prevalent the perception of the PKK as a threat.
PKK as a party
The survey study included questions about confidence and trust felt towards Öcalan and the PKK. Seventy-six percent replied that they did not believe that Öcalan and the PKK will carry out their end of the deal in the talks for a settlement. Only 15 percent expressed trust in the PKK. Certainly, that ratio was higher among BDP voters, 79 percent of whom said they have confidence in the PKK. In response to a question on whether the PKK should be allowed to turn into a legitimate political party, 34 percent responded positively, which the researchers say is a significant percentage and notes that this further confirms that violence and military options are no longer legitimate for Turkish society and that there is potential for the PKK to eventually become a political actor.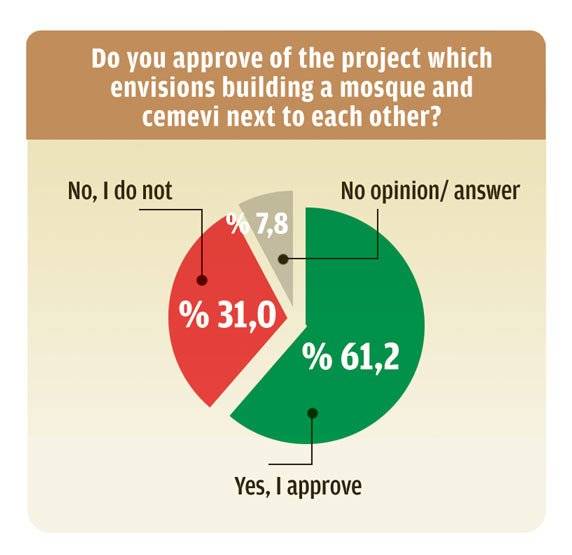 The study also found that there has been an 11 percent increase compared with a similar survey in 2012 in the percentage of those who support the idea of allowing Kurds to be schooled in Kurdish. Forty-eight percent said they were in favor of Kurdish being a language of education along with Turkish, while 47 percent said they are against.
Cemevi-mosque project
The researchers also polled questions on the very sensitive issue of how the Alevi and Sunni identities relate to and interact with each other. The researchers expressed their belief that only by the prevention of tension between Alevi and Sunnis and "otherization." They recalled that a recently announced project by the supporters of the Fethullah Gülen movement to build a mosque and a cemevi — an Alevi temple, literally a "house of gathering" — right next to each other on the grounds of the same complex had found support but also criticism. Sixty-one percent of those surveyed said they approve of a cemevi and mosque being built next to each other, while 31 percent said they were against it.
The survey also included questions measuring the population's approach to the situation in Syria and the government's policy regarding the Syrian crisis. Only 31 percent of respondents said they approve of the government's policy on Syria, while 56 percent said they think the government's policy is wrong. Even among Justice and Development Party (AK Party) supporters, those who said the government's Syria policy has been successful is only 53 percent.
In related questions, 25 percent support a US-led intervention in Syria, while 67 percent are against this. The highest percentage of those supportive of an international intervention in Syria was among AK Party voters (40 percent). Among Republican People's Party (CHP) voters, only 10 percent expressed that they would like to see an international intervention. For MHP and BDP voters, this percentage was 17 percent. In response to a question as to whether Turkey should intervene in Syria, 21 percent said yes (33 percent among AK Party voters) and 73 percent said no (66 percent among AK Party voters).
In response to a question inquiring whether all elements of the Syrian opposition — including radical groups associated with al-Qaeda — should be supported indiscriminately, 29 percent said yes, while 53 percent said they were against such an approach.
Refugees from Syria
Turkey has been greatly affected by the civil war in Syria, and perhaps the refugee influx has been the most important outcome of that war. There are more than 500,000 Syrian refugees in Turkey. Fifty-eight percent said Turkey was doing the right thing opening its doors to Syrians fleeing the war.
 In response to a question regarding the perpetrator of the chemical attack in Syria, 50 percent said they believe the culprit is the Bashar al-Assad regime, but 32 percent expressed no opinion and 18 percent said they believed the opposition used chemical weapons. One-fourth of CHP voters pointed to the opposition, while three-fourths of AK Party voters indicated that Assad is responsible for the use of chemical weapons.
Source: TodaysZaman , October 6, 2013
Tags: Alevi issue | Democracy | Dialogue | Freedoms | Kurdish Issue | Turkey |