Date posted: August 29, 2015
DES BIELLER
Enes Kanter is not a small man. The Oklahoma City Thunder center is listed at 6-11, which is tall even by NBA standards.
However, Kanter looks positively Spud Webb-like next to Sultan Kosen, a countryman of his from Turkey (Kanter was born in Switzerland to Turkish parents). Of course, everyone on the planet looks short compared to Kosen, who, at a whopping 8-3, has been recognized by Guinness World Records as the world's tallest man since 2011.
Kanter appears to have misspelled Kosen's name, but he surely won't ever forget the time he stood face-to-collarbone with another human being. Also note how the basketball appears grapefruit-sized in Kosen's hand, the pair of which are also the largest in the world, according to Guinness.
The two men were at the grand opening Thursday of a new private school, Fulton Science Academy, in the Atlanta suburb of Alpharetta. Kosen was there to discuss his experiences growing up so different from most people — including getting bullied — while staying positive.
Of course, others posed with Kosen, as well, making for even greater height disparities.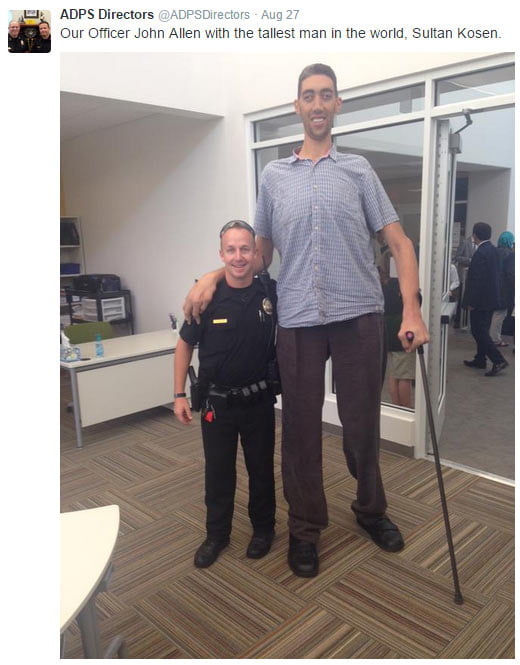 However, there are great height disparities and then there is the greatest height disparity. For that, we go back a couple of weeks, when Kosen posed with the Guinness record holder for shortest man, Nepal's Chandra Bahadur Dangi, who is 21½ inches tall.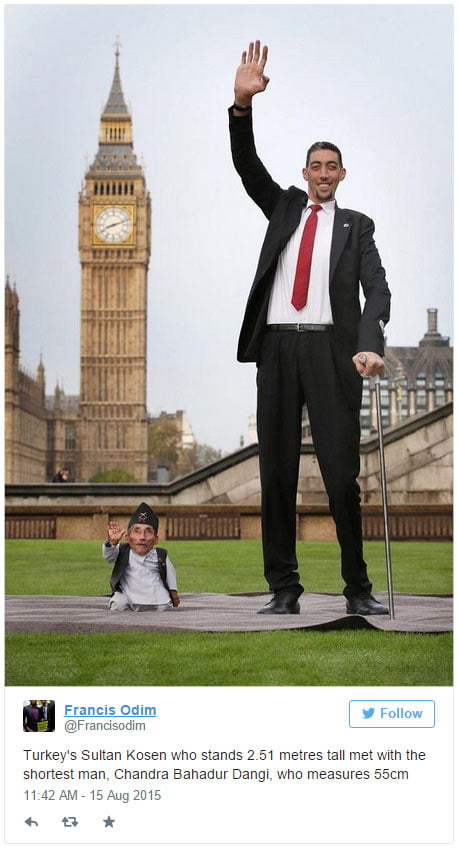 Source: The Washington Post , August 27, 2015