Date posted: November 6, 2012
Professor Doğu Ergil's two-and-a-half-year study on the Gülen movement inspired by Fethullah Gülen is in English now. Ergil met with Gülen twice while writing the book. The 100 questions Ergil asked consist of those the general public is curious about. Ergil's analysis accompanies Gülen's answers to these questions. Gülen gave both verbal and written replies to Professor Ergil's questions. An important part of the written replies consists of Gülen's writings and texts of the information he provided to other people. These texts are endorsed by Gülen. The rest is the outcome of conversations between Gülen and Ergil.
Understanding both Fethullah Gülen as a moderate Turkish Muslim scholar, and the Gülen Movement, a global network of volunteers, teachers, students, intellectuals and business people who are inspired by Gülen's philosophy based on dialog and peaceful coexistence, is vital to making any sort of predictions about the direction that Turkey might be headed in the next years. Who is Fethullah Gülen? What is Gülen's world view and what are his fundamental ideas about society and the state? How does Gülen view history and what does he consider the most important events? What are the basic principles of the Gülen Movement? These questions and more are posed and answered in detail in this book.
Doğu Ergil served as a professor of Political Sociology at Ankara University for long years; he is currently teaching at the Department of Political Science and Public Administration, Fatih University in İstanbul. Ergil has worked with various NGOs on developing more effective leadership, conflict management, and creative problem solving. He has won awards for his work in international organizations promoting peace and democracy.
The book is available at Ant Stores. Click the link to order it.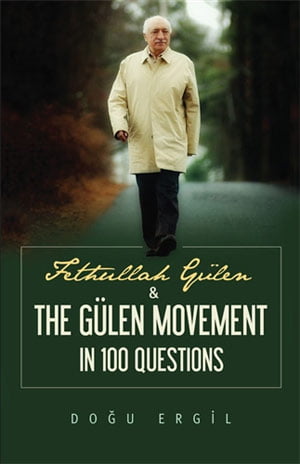 Below is excerpt from an interview with Profesor Ergil.

As you were working on Gülen and the movement inspired by him, were there things that surprised you?
Several. Observing how a civil society organization can grow so powerful and evolve into a global phenomenon. As people who tend to expect support from the state for every initiative, we have difficulty understanding how our own people can create a national, and then international, movement, all from their own resources. Then we find out that we do not like the weakness with which we imprison ourselves. We nurture doubts and worries about the people who combine their resources to create a strong movement. Actually, we are not blaming them but ourselves and our "adopted helplessness."
It is a contradiction for us to try to attribute the opposite to a movement which takes pains not to be in conflict with the state and which does not demand anything from it and which categorically refrains from taking part in politics.
It is extraordinary that an imam from rural Anatolia has emerged to become an opinion leader who influences large social groups and leads them in their search for modernization, improving their quality of life and secularization.
To interpret wealth as a reward from God to the people for their hard work and for being useful to others, something that paves the way for the accumulation of capital and encourages the businessmen to turn into investors.
To ensure that religion and science go together and that science penetrates not only individual lives, but also social life. To create educational institutions on an international scale and take them everywhere.
To understand that while many religious communities or clerics derive justifications for violence and hatred from the Quran and hadith, Gülen can spread peace, solidarity and all-inclusive common values, and he exerts great humane efforts to this end, accompanied by the impressive accomplishment of his followers to spread his efforts.
To observe that the Gülen movement has achieved secularization from the bottom up, contrary to the previous efforts by state authorities to achieve it. To see that with an increase in their welfare, education and effectiveness, people can make more rational decisions and experience the coexistence of religion and science, or life on Earth and the Hereafter, without separating or compartmentalizing them in their daily lives. This has happened without political choice or compulsion, but as a sociological and cultural process.
Click here to read the entore interview with Professor Ergil.
Tags: Book reviews | Fethullah Gulen |