Date posted: July 27, 2013
HizmetNews.COM
American Turkish Friendship Association (ATFA) held its annual Ramadan Tent on July 17-19 this year. The tent stayed up in the parking lot of Unity of Fairfax Church for 3 consecutive days and hosted approximately around 750 people each evening over Iftar Dinner.
Attendance consisting of various religions and backgrounds enjoyed a festival full of joy. Stands with Turkish tea and coffee, Turkish traditional pastries, traditional "lokma" sweets, popcorn, cotton candy, "cig kofte" (a traditional Turkish food) were set up for people to enjoy after each day's iftar. Moreover, children enjoyed the presence of clowns and had moon bounces set up for them.
Rev. Russel Heiland, Ambassador of Turkey in the USA H.E. Namik Tan, Ambassador of Azerbaijan in the USA H.E. Elin Suleymanov and Chairman of the Fairfax County Board of Supervisors Sharon Bulova, Asm. Kenneth Plum and other community leaders were present at the tent on the first day.
Many Muslims along with people of different faiths attended the dinners at the tens.
Asm. Kenneth Plum who visited Turkey with an intercultural tour organized by ATFA was one of the guests at the tent. He has had close relations with ATFA since the tour he appreciates ATFA's efforts to bring together people from different faiths and cultures. Asm. Plum said, "Such friendly gatherings is crucial in order to establish a better society."
Daphne Sahlin who is a public servant liked the "tent organization". She says she was welcomed and treated well at the tent. She appreciates ATFA for inviting people to the tent. "People spend wonderful time here" she asserts.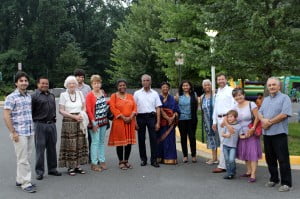 Source: ATFA , July 20, 2013
Tags: Dialogue | North America | USA |