Date posted: March 7, 2012
Cihan News Agency February 23, 2012
The biggest science olympiads of Indonesia organized by Indonesian Turkish schools get huge attention. 980 projects around the country were submitted to the olympiads for the competition, but only 178 of them made it to the finals. 356 students who made it to the finals received as much attention for their colorful attires as they did for their projects.
Indonesian Science Project Olympiads (ISPO), the biggest olympiads among high school students in the country, was opened yesterday, for the fourth time, with a great ceremony. The final of the competition is currently being held in Jakarta University's campus in Jakarta. The preparation for the olympiads were made months ago. 980 projects were submitted in January and after a very competitive elimination, 178 projects and 356 students made it to the finals. Those projects are currently on display.
The jurists, who are renowned professionals in the field of science, will choose 5 projects in the fields of physics, chemistry, biology, technology, environment and computer. The winners will be announced and will receive their medals in a ceremony tomorrow.
The Science Project Olympiads, held by Indonesian Turkish Schools also receive great support from The Indonesian Ministry of Education and well known universities throughout the country. Davut Akbulut, the coordinator of the olympiads, states, "The olympiads allow the students to set sail in the world of science. We are so proud that the Turkish Schools give this opportunity to the young brains."
The environmental projects get attention
Projects about protecting natural life get the most attention among many interesting projects.  Especially, the projects that produce electricity using rain water and high calorie coal from waste in furniture factories get the most attention.
Another project that receives attention provides a great solution for villages that lack electricity. The students designed a simple device using a hand mixer and bicycle parts that enables people to squeeze healthy fresh fruit juice without the use of electricity.
The beautiful, traditional attires of the students colored the event and made it worthwhile, in an academic and cultural sense.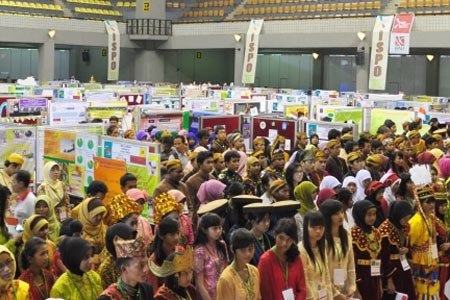 Source: http://www.zaman.com.tr/haber.do?haberno=1249630&title=endonezyada-turk-okullarinin-duzenledigi-proje-olimpiyatina-yogun-katilim
Disclaimer: The original article is in Turkish. Slight deviations from the original meaning may have occurred due to difficulties in translating phrases and idioms. PII volunteers translated the article.
Tags: Asia | Education | Hizmet-inspired schools | Indonesia | Science olympiads |