Date posted: April 3, 2015
Harrisburg – Peace Islands Institute co-sponsored the 3rd Annual Women's International Women's Conference with the World Affairs Council of Harrisburg. The conference was held at Central Penn College. Peace Islands Institute representative Dr. Nuray Yurt gave the opening keynote talk for the event. Dr. Yurt's talk centered on women's rights and empowerment throughout history, and touched on some of the problems of today.
Dr. Yurt talked about some actions that need to take place: equality laws need to be enforced, organizations and governments must increase awareness for this in all countries.
The first panel was about was about the top issues of 2015, Women and Health, Sexual/Domestic Violence, Business and Workplace, and "Religion: Supporter or Repressor?". This panel discussed social, demographic, health literacy, cultural competence, also sexual and domestic violence against women and the many education problems that are tied to this problem.
The next panel was about Women, Power, and The Presidency. Here, a big part of the discussion is on women choosing between family life, or positions in power, raising children and the demands of leadership. Why hasn't there been a woman President yet? There were also points about the mental differences between women and men, and how they operate as leaders, or particularly in leadership positions, such as in the case of how it has academically been shown that women are consensus builders, as opposed to men, who step up to be "alpha leaders."
The closing keynote talk was given by Central Penn College President Dr. Karen Scolforo. Dr. Scolforo talked about women's success stories and women's issues in education, and institutions established by women, as well as salary statistics of women as ceos, what successful women look like, masculine qualities associated with leadership roles, the perception of female characteristics as 'mismatched for industry leadership.'
The program ended with a panel discussion of some insights and takeaways into the state of affairs with women clergy, and also women in student leadership roles and addressing potential safety problems on college campuses. It was noted that men in leadership positions are actually adopting women's characteristics as leaders, and that women need to recognize their ownership those characteristics.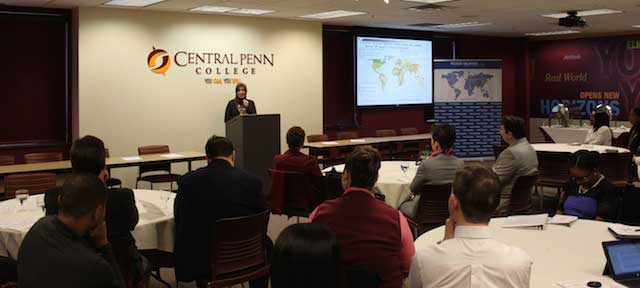 Source: Peace Islands Institute , March 22, 2015
Tags: North America | Peacebuilding | USA | Women issues |