Date posted: September 23, 2014
With its 100th issue, The Fountain invites you to join us in our celebration. Write in an essay a projection of yourself on your 100th birthday. What would you say to yourself at that age? What would your 100-year-old self tell you back? Would it be a conversation of praise and/or regret? Praise for achievements in your career, but regrets for a destroyed family? Warnings for the mistakes you did in your projected future or you will do in your past; pitfalls you happened to be dragged into, temptations you could not resist; or celebrations for the good character you were able to display and sustain a whole life, a precious life wasted or a life lived as it was meant to be.
What would your conversation be like with your 100-year-old-self?
Contest open to all writers worldwide
Essay word count must be between 1,500 and 2,500 words
Essay must be submitted through the essay contest page at www.fountainmagazine.com/essaycontest
Cash prizes:
1st Place – $1,500
2nd Place – $750
3rd Place – $300
Two Honorable Mentions – $200 each
Essay submission deadline; October 30, 2014
For more information:  www.fountainmagazine.com/essaycontest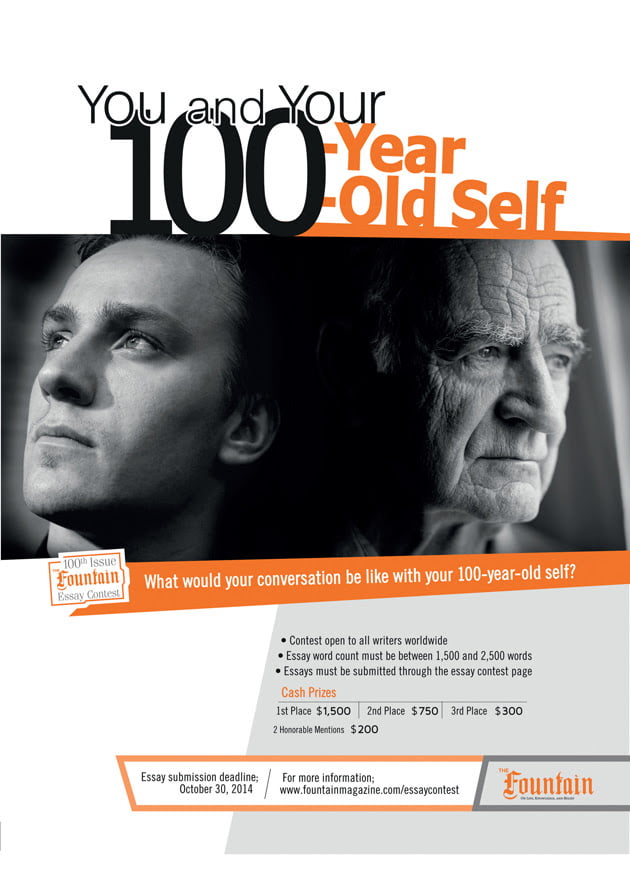 Source: Fountain Magazine
Tags: Hizmet and media | Turkey |