Date posted: July 31, 2014
Kimse Yok Mu Foundation (KYM) shared the Ramadan joy with the orphan in Benin, the country of the PM Yavi, who himself is an orphan as well. The foundation uplifted hundreds of orphans at the Ramadan event in the floating Beninese city Cotonou. The orphan children broke their fast with the food by KYM and enjoyed a day that they will always remember.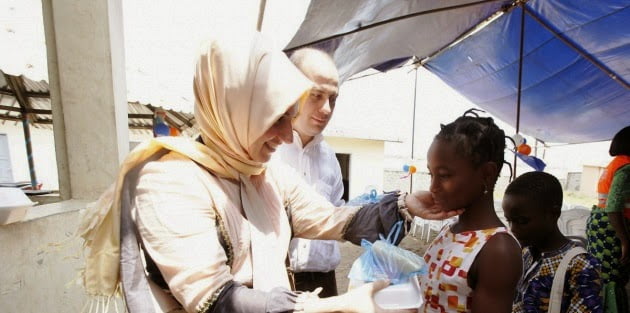 Reaching out to hundreds daily throughout the month of Ramadan, KYM volunteers gave away food aid to 10 thousand families in 10 different cities across Benin. Senior officials of the country were also present during the aid distributions. KYM served 10 thousand iftar dinners as well. The Beninese children, who met puppets for the first time in their lives, danced and had fun designing and playing with them.
Ayse Ozkalay, the foundation's vice-president, was present during some parts of the distributions and iftar dinners. In her address to the orphan, Ozkalay said: "You may think that we will give you donations and cheer you up. In fact, it's the other way around because the most precious thing in life is to make someone smile. And seeing the smiles on your faces, I'm so glad that I am here. Brotherhood is not all about kindredship. Sometimes, it is to confront difficulties or to share love with an orphan in your arms. I believe we are all brothers and sisters. Let us be together."
Published [in Turkish] on Cihan, 24 July 2014, Thursday
Source: HizmetMovment.Com , July 20, 2014
Tags: Africa | Benin | Hizmet and politics | Humanitarian aid |