Date posted: December 10, 2012
The Formosa Institute held an international conference on "The Hizmet Movement and the thought and teachings of Fethullah Gulen: contributions to multiculturalism and global peace" at National Taiwan University (NTU) this weekend. The conference aimed to explore the impact of the Hizmet movement on education, dialogue and peace, with a focus on transcending traditional boundaries between religions and cultures. Further, it touched on such issues as democracy, multiculturalism and intercultural dialogue.
As a leading faith-inspired movement in contemporary Turkey, with a global educational and interfaith impact, the movement supports the peaceful coexistence of Muslim and other communities in a secular context.
The Hizmet movement (aka Gulen movement) began in the 1970s in Turkey to improve education and grew into a global civic movement which encourages interfaith and intercultural dialogue. It is inspired by the ideas of Fethullah Gulen, who Foreign Policy magazine listed as the "World's top intellectual." Gulen a scholar, educator and author who advocates a moderate brand of Islam, is best known for his quote: "A terrorist cannot be a Muslim, nor can a true Muslim be a terrorist." He says that "Extremism will be curbed and tolerance will be promoted by education."
Islam and Confucianism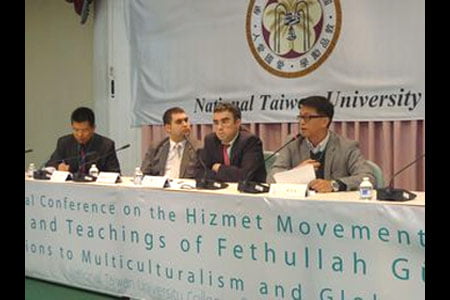 Participants of the Formosa Institute's international conference on the Hizmet movement are shown at National Taiwan University in Taipei. Photo credit: The China Post)
"The core value and approaches of the Hizmet movement and those of Confucianism are mutually complementary to each other," said professor Wang Dingshu of National Chengchi University. Other scholars asserted that the movement had a positive impact in the world. According to conference papers, the movement has opened more than 1,000 schools, dozens of universities, and cultural and dialogue centers as well as businessmen associations and humanity aid campaigns. The movement operates in over 140 countries.
A large part of the Hizmet schools' success comes down to its teachers, who "not only think of their duty as a job, but love students and are willing to help them," said Texas Tech University scholar Mark Webb at the conference.
Osman Cubuk, a lecturer from the NTU said: "there is a dialogical relationship between Gulen's thought and East Asian religious culture in terms of humanism."
The Hizmet Movement in Taiwan
In Taiwan, the Hizmet movement set up a junior high school in Kaohsiung in 2006. The Anatolia Formosa Association Women's League holds cooking classes for Taiwanese of different faiths, and the Taipei-based Formosa Institute regularly invites local community members to academic lectures and trips to Turkey.
In Taiwan there aren't violent clashes among people of different religions, but there is still distance between them," said Nabil C.K. Lin, chairman of the Taiwan Association of Islamic Studies.
Lin also coordinated the weekend conference, in cooperation with the Formosa Institute.
"Taiwan needs peaceful dialogue. Why? Because if we don't get to know others, there will continue to be prejudice," said Lin.
Source: The Chin Post Monday, December 10, 2012
Tags: Asia | Conferences on Gulen | Dialogue | Taiwan |