Date posted: October 26, 2013
FUAT SEFEROV, MOSCOW
The Confederation of Turkish Businessmen and Industrialists (TUSKON) organized a meeting in Moscow on Thursday that brought together businesswomen from Russia and Turkey as part of its attempts to establish closer economic ties between the two countries.
The participating women all agreed on one thing: That a great task falls on women as well as men in realizing the ambitious target of reaching $100 billion in mutual trade, a goal jointly set by Turkish Prime Minister Recep Tayyip Erdoğan and Russian President Vladimir Putin. Trade volume currently stands at $38 billion. The businesswomen held talks to seek out business opportunities during the program, which was also attended by representatives of the Association for Business and Friendship between the Russian Federation and Turkey (RUTİD).
Aside from hundreds of businesswomen, TUSKON Deputy Chair Rana Tezcan Açıkgöz, Undersecretary of Turkey's Embassy in Moscow Başak Genç Yüksel and Small and Medium Industry Development Organization (KOSGEB) Deputy Chair Selma Tezyetiş attended the meeting.
Açıkgöz recalled that the first such meeting was held in October 2012 in İstanbul with the participation of 55 businesswomen from Russia and 350 of their counterparts from Turkey. At this first meeting, a number of agreements were signed, especially on the construction materials, textile, food and tourism sectors, she said, noting that 25 Turkish businesswomen visited Moscow this year.
"In parallel to the development of trade, investments between the two countries must also increase. One-hundred-and-fifty companies out of the top 500 [in Turkey] have business relations in Russia and the amount of Turkish capital directly invested in Russia was $11 billion as of the end of 2012," Açıkgöz said.
'We have turned shuttle trade in modern trade'
Galina Roketskaya, a RUTİD board member, said that Russian businesswomen have successfully ended "shuttle trade" between Turkey and Russia and brought trade practices up to internationally accepted standards.
Speaking to Today's Zaman on the sidelines of the meeting, Roketskaya said that the majority of the trade in early 1990s was shuttle trade, known by locals as "suitcase trade," a primitive way of importing goods that often went undeclared. The governments of both countries launched strict measures to eradicate the practice, which caused losses in tax revenues and was holding both back from establishing modern, organized, measurable and improvable trade.
Roketskaya said the Russian government has prioritized the improvement of its small- and medium-sized enterprises (SMEs) through a set of measures and incentives, and that cooperation with Turkish companies, which will pave the way for a better understanding of the Turkish experience, will aid the advancement of Russian SMEs.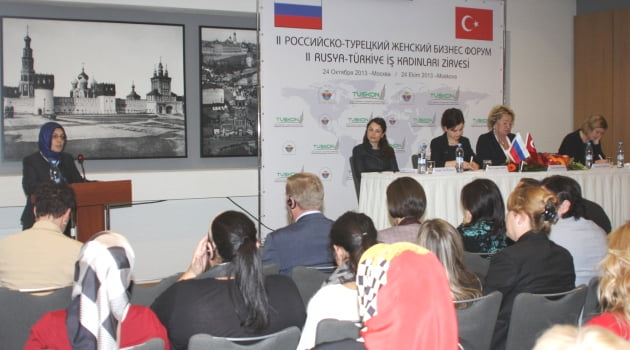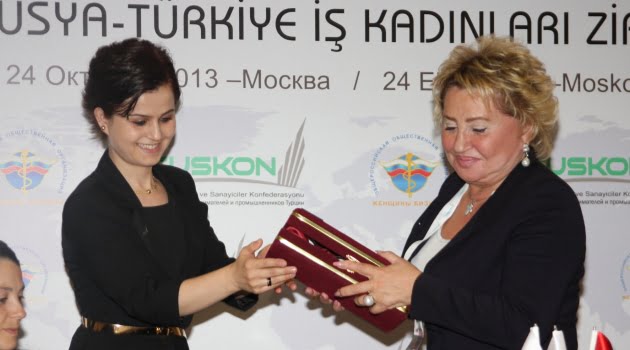 Source: Today's Zaman , 25 October 2013
Tags: Asia | Hizmet and business | Russia | Women issues |