Date posted: November 23, 2012
AYTEN ÇIFTÇI, ALGERIA
The ideas, worldview and teachings of Fethullah Gülen, a Turkish Islamic scholar known for his promotion of mutual understanding and tolerance between cultures, were discussed at a conference on Wednesday hosted by the Faculty of Islamic Sciences of the University of Algiers.
The conference, titled "Perception of Civilization in the light of Teachings of Fethullah Gülen and Algerian scholar Malik bin Nabi," brought together academics, journalists and writers from 18 countries. Presidential advisor Mohammed Ali Boughazi delivered a speech at the event and said scholars have a large share in the establishment of civilizations. According to Boughazi, Nabi and Gülen are two leading figures in the Islamic world and they are praised worldwide for their efforts into promoting peace and tolerance.
Boughazi also said a common point the two scholars have is the importance they attribute to knowledge, science and spiritual values. "Nabi lived in France; he received education in French and he had to write his books in French. However, Gülen writes his books in the language of the lands he was born in. Both Nabi and Gülen have gone through troublesome times in their attempts to produce solutions to the underdevelopment of Islamic civilization," he stated.
Among the participants of the conference were Tahar Hadjar, rector of the University of Algiers, Fatih University board of trustees President Mustafa Özcan, Nevzat Savaş, editor-in-chief of the Hira magazine, and Acharati Sulaiman, a fellow at the Vahran University in Algeria.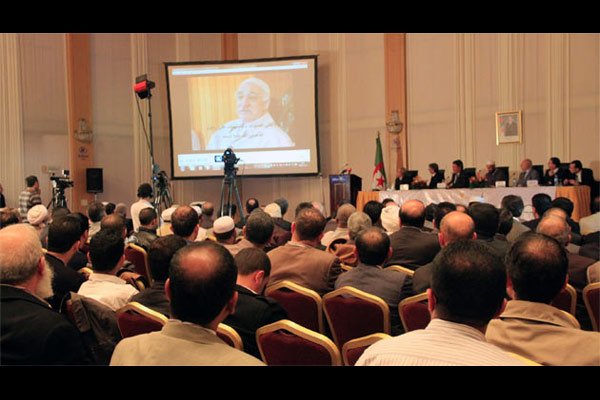 Ammar Musaid, dean of the Faculty of Theology at the University of Algiers, also delivered a speech at the conference and said that Gülen is a very important figure for the Muslim world. "Gülen tells in his books about methods to protect civilizations," he said, adding that he learned about Gülen and his teachings before many others in Western countries. "The Muslim world will get rid of the complexity it is stuck in thanks to Gülen's teachings and thoughts," Musaid went on to say.
Gülen has written many books on a variety of religious and Islamic topics that attract a large number of readers from all around the world. In order for the books to reach even more readers, they have been translated into a variety of languages, including Spanish, Russian and English.
Source: Today's Zaman 22 November 2012
Tags: Africa | Algeria | Conferences on Gulen | Hizmet in Arab world |