Date posted: February 5, 2013
Haci Kemal Tajik-Turkish Schools operating in Tajikistan recorded another victory in the science olympiads held in Kazakhistan. The schools' team ranked second, winning one gold and two silver medals.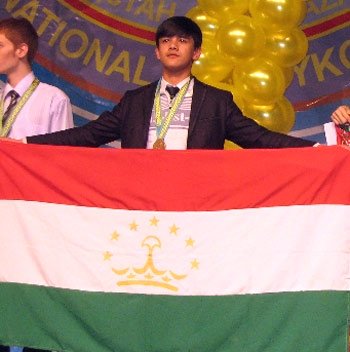 Following their arrival back in Tajikistan, the contestants having represented the country were received by Minister of Education Nuriddin Saidov. The Minister congratulated the team on their achievements in the competition and presented netbook computers to each student. He also promised an abroad trip as a reward to next years' champions, and to mobilize the ministry so that the students can study in countries including the USA, England, China, Japan and India.
Additionally, Saidov approved the proposal to honor Haci Kemal Tajik-Turkish Schools teacher Sabri Zerenturk, with the title 'effective educator'.
In the 9th International Zhautykov Olympiads held in Almati, Kazakhistan, Tajik-Turkish Schools student Sadi Okilnazarzoda won the gold medal while his teammates Musohon Mugoyumhonov and Abdulvosit Ismailov got silver medals. The team ranked second in the competitions organized in math, physics and computer categories with the participation of 348 students from 13 countries.
Source: [in Turkish] on Habermonitor.com, 30 January 2013. English translation is retrieved from Hizmetmovement.COM
Tags: Asia | Education | Hizmet-inspired schools | Science olympiads | Tajikistan |