Date posted: December 11, 2012
Taipei, Dec. 11 (CNA)
The Hizmet movement, a social movement inspired by Turkish Islamic scholar Fethullah Gulen, could be a powerful argument for the theory that people need only good education to bring out the goodness in them, a U.S. scholar said Saturday.
Mark Owen Webb, chairman of the Department of Philosophy at Texas Tech University, said schoolchildren in southeastern Turkey told him during a visit he made in 2008 that they would have become extremist had it not been for the schools built by supporters of the movement and their teachers.
The Hizmet (Turkish world for "service") movement began as a faith-inspired initiative in the 1970s to improve education in Turkey and grew into a civic movement around the world that encourages interfaith and intercultural dialogue.
The movement has inspired the building of schools and other educational institutes in some 140 countries, and the establishment of charities and hospitals, as well as media such as Zaman newspaper, Turkey's largest circulating daily.
Scholars from Taiwan and abroad gathered at a two-day international conference in Taiwan that kicked off Saturday to discuss the teachings and practices of Gulen, a scholar, educator and author who has millions of followers worldwide.
Parents of the children believe the spirit of Hizmet "makes schools that produce well-trained citizens of strong moral character," Webb said.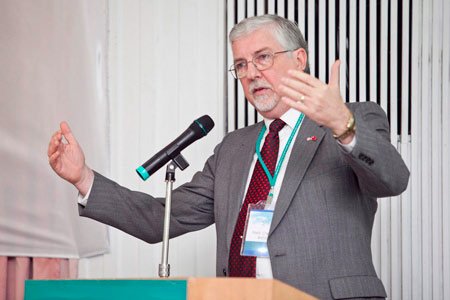 He said schools affiliated with the Hizmet movement emphasize science, math and language education. Religious subjects are not taught, but teachers are expected to model good moral character, he added.
The schools are financed by sponsors and businessmen and offer the same curricula as public schools, he said.
If the changes in southeast Turkey can be attributed, even in part, to the Hizmet movement, it is a powerful argument for the educational theory that people have the resources to live together in peace and need only the support of good education to realize their basic goodness, Webb said.
It also provides an example of one way to reform damaged societies, he said.
Gulen, 71, is known for making the remark "a terrorist cannot be a Muslim, nor can a true Muslim be a terrorist," after the Sept. 11 Muslim terrorist attacks on the U.S. in 2001.
Meanwhile, Lin Mei-rong, a professor at Taiwan's Tzu Chi University, said people often think that the religious field is conservative.
She said, however, that both the Hizmet movement and the Buddhist Tzu Chi movement initiated by Buddhist nun Cheng Yen, which stresses charity, medicine, education and culture, are innovative religious movements that correspond to calls for change.
Ahmet Gurhanli, chairman of the Taipei-based Formosa Institute, which organized the conference, said his institute has been organizing lectures and academic conferences to promote mutual understanding and social harmony.
He said the Hizmet movement (aka Gulen movement) is "often misunderstood" and expressed belief that the movement "could be a good cure for Islamic phobia."
Source: Focus Taiwan News Channel
Tags: Asia | Conferences on Gulen | Education | Taiwan |