Date posted: August 2, 2013
Kimse Yok Mu (KYM), set to reach out to 103 countries as a part of its Ramadan campaign, continues to deliver aid worldwide.
Yemen
Board members of Kimse Yok Mu Konya branch, Ramazan Celimli and Mehmet Say accompanied with eight businessmen, were in Yemen to deliver iftar and suhur aid packages to those in need. The board member Celimli reported that they distributed a total of 1500 packages in the city Sana and they target 11 thousand nationwide by the end of Ramadan. "We've reached out to the needy in Sana with the contributions of the local Turkish school. The selflessly devoted teachers of the school have been so helpful to us for all this time in Sana" Celimli said. He further added that they are a team of ten volunteers having set out to deliver Konya donors' aid for the less fortunate Yemenis.
"Yemen has an imbalanced distribution of income. Majority of the population is suffering poor conditions below the hunger threshold. As both humanity and Muslims, it's our duty to extend a hand to these people" said another volunteer businessman Selahaddin Karadavut.
Burkina Faso
KYM is set to reach out to 60 thousand families through aid deliveries at five different sites across Burkina Faso. As a part of its efforts for Burkina Faso, the foundation's volunteers to date have distributed 1100 aid packages and hosted 10 thousand at iftar dinners. Additionally, the volunteers delivered Ramadan aid to 2.800 orphans at seven different orphanages around the country. The people were overjoyed to receive the aid and sent blessings for Turkish people and KYM, as the volunteers noted. The team will continue to feel and let Burkina Faso people feel the joy of sharing throughout Ramadan.
Venezuela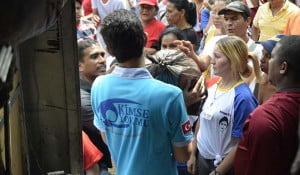 KYM volunteers have distributed aid packages to 1000 families in need so far through Ramadan efforts that the local Venezuelans volunteered in as well. The foundation had previously been in Venezuela in 2011 to deliver aid packages to over 700 families. Now back in the country, it aims to uplift one thousand this time. The Venezuelans of various age and occupations volunteered to help KYM team surrounded by an excited crowd as they delivered the aid. In gratitude to the KYM volunteers -who came all the way from Turkey- for the bridges of brotherhood, the locals expressed their deep appreciation of the aid and Turkish people's concern for them.
Niger
The foundation have been holding iftar dinners for 1500 Nigeriens daily in the capital Niamey, in addition to delivering aid packages. 400 families having been listed in advance by the local officials have been delivered aid packages. Additionally, a total of 1500 locals daily who had been handed out coupons by local officials are served iftar. The aid efforts are scheduled to continue throughout the month.
Source: HizmetMovement.Com , July 20, 2013
Tags: Africa | Asia | Burkina Faso | Humanitarian aid | Niger | Yemen |