Date posted: April 12, 2017
Turkey, the transcontinental country that straddles Europe and Asia, has been witnessing tectonic shifts in recent years that accelerated after the July 15, 2016, coup attempt. President Recep Tayyip Erdogan promised a "cleansing" of state institutions that led to a tightening of his grip on power and sparked a major purge that upended the lives of hundreds of thousands of ordinary Turks. On the eve of the April 16 constitutional referendum, FRANCE 24 met with four victims of this purge.
July can be an oppressive month for the residents of the Turkish coastal city of Antalya. Temperatures soar, the Mediterranean belches a muggy vapour over the city and many Antalyans try to escape for the cool of the surrounding Taurus Mountains even as tourists pour into local resorts.
But for the Yildirim* family, the summer of 2016 offered no escape.
A coup plot, fabricated and executed far from these Mediterranean shores, trapped the Yildrims in a vortex of disasters as family member after family member got burned at the Gulenist stake, condemned for belonging to the movement founded by the latest bogeyman threatening the Turkish state: Fethullah Gulen.
For Asli, a 41-year-old mother of three, the nightmare started shortly after the July 15, 2016 coup attempt. Barely two days after Turkish President Recep Tayyip Erdogan declared a state of emergency, the family received a call from the principal of the public school where her husband, Semih, was a geography teacher.
Since the school was closed for the summer, the couple sensed it was probably something serious.
"The next day, we went to the school together and the principal handed my husband an envelope. There was a letter from the Ministry of Education that said my husband was suspended for being a member of FETO," explains Asli.
The term FETO, short for Fethullah Gulen Terrorist Organisation, was coined by the Turkish government for a movement known as Hizmet (service) to its followers. Erdogan has accused Gulen — his one-time, fellow Islamist ally — of masterminding the coup plot. The Pennsylvania-based Turkish cleric has denied the allegation.
But from her home in Antalya, Asli has no interest in the political intrigues in Ankara, Istanbul and Pennsylvania.
All she knows are the values she has embraced and she can't see any problems with the humanist vision of Islam she endorses. "I recognise Gulen's values in the morality of Islam, in the lives of Moses, Jesus and the Prophet Mohamed. Our values tell us never to hurt people, but to help them. And we can't lie. So, politics and our values don't match," she says.
Asli and her brothers were put in Gulenist schools by her father, a now retired small businessman, who simply wanted the best education for his children.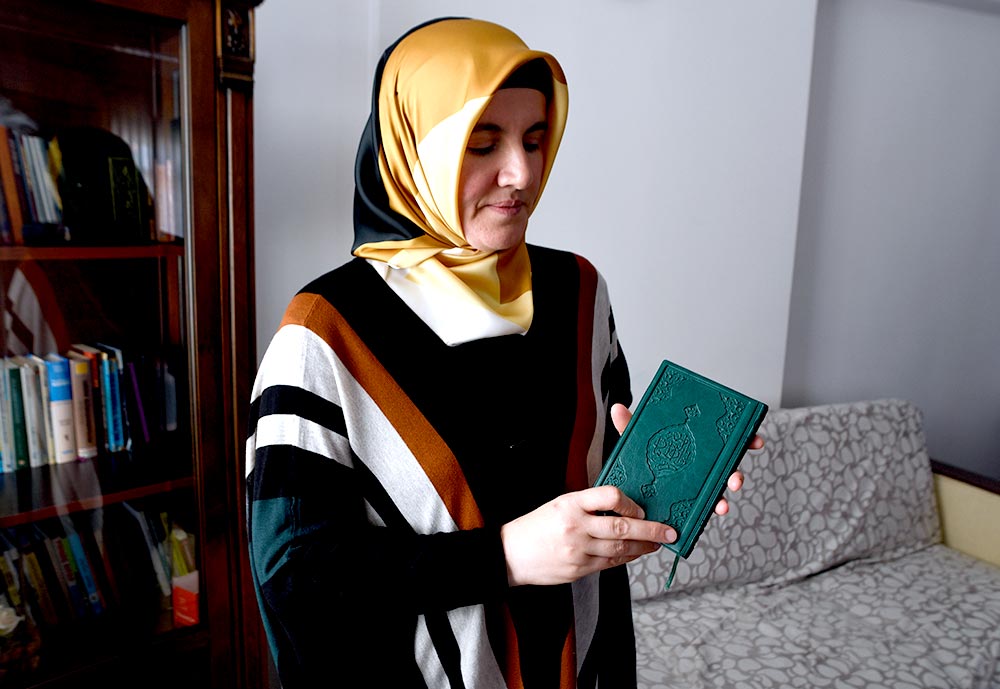 The post-coup purge has seen more than 130,000 people suspended or sacked from public sector jobs and around 95,000 detained. While the victims of the purge include a cross-section of Erdogan's opponents, the Gulenists are perhaps the hardest hit.
Six months after the failed coup, a number of sacked academics, journalists, human rights defenders and trade union members are mobilising and demanding answers from the state. The Gulenists, though, appear to have no platforms for redress, no support groups to help them through these difficult times and they are still afraid to speak to the press.
That fateful day, when Asli's husband lost his job at a public school, marked a turning point for her family.
---
Asli recounts how her mother-in-law recently caught her six-year-old son stealing a pomegranate from the neighbour's tree. When she asked her grandson why he was stealing, he replied: "I'm stealing this pomegranate so that the police arrest me and take me to prison, so I'll be with Daddy. I will return it as soon as Daddy leaves jail."
---
Semih's sacking was a shock for the couple. The previous month, Asli had lost her job as a physics teacher at a Gulen-run tutorial school preparing students for their final exams. It was a month before the July 15th coup, but the crackdown on the Gulenists had already begun following a series of corruption scandals that threatened to embroil the Turkish president and his family.
When Asli's tutorial school shut down in June 2016, the couple believed they could weather the loss since Semih worked at a public school and his job was safe.

But the couple barely had time to digest the news when Asli heard that her sister-in-law, Zainab — a slim, elegant woman married to her younger brother, Farouk — had also lost her job as a mathematics teacher in a public high school.
The very next morning, on July 23, the police arrived at the residential building where the Yildirim brothers and sisters live in separate apartments.
Their retired father, Ethem, who happens to be the building concierge, was in the ground floor office when the police came in looking for Farouk.
The police of course were not aware that Farouk was the concierge's son, but that didn't matter. The Yildirim patriarch was not worried. His son, Farouk, was a former journalist at the Antalya office of Zaman, Turkey's largest newspaper before the government seized it in early 2016 for its Gulenist links.
"My father did not seem agitated when he brought the police to my apartment because he didn't think it was a big problem," explains Farouk, seated on his sister's couch.
But they were wrong. The police had come to arrest Farouk and as they led him out in handcuffs, Asli ran to her window to watch her younger brother being taken away.
The next morning, July 24, shortly after 6am, Asli was saying her prayers in the hallway when the doorbell rang. Semih opened the door to find three different policemen with his father-in-law, the concierge, looking very disturbed.
When the police saw Asli praying, they waited at the doorway until she had finished before conducting a house raid and arresting Semih.
"They were looking for books, CDs, USB sticks, mobile phones," Asli explains. "My eldest girl, she's 13, heard the noise, got out of the children's room and came to sleep on our bed. The two younger ones slept on."
'It's the 12th floor, he's not going to escape'
The police did not let Asli pack her husband an overnight bag. But they did let him use the bathroom – with the door opened as they stood watching. "It's the 12th floor, he's not going to escape," Asli's father muttered sarcastically. The police however explained that it was a suicide bid they were wary of.
As they proceeded to take her husband away, her father got very agitated, Asli explains.
"He started shouting: 'What do you want from my children? Why are you taking my children away?'" she recounts.
In response, the police handcuffed the retired family patriarch and took him away as well — along with his son-in-law.
It was a pattern of police bullying that would torment the family again and again in the days to come.
The next day, July 25th, Asli went with her two brothers, Yacoub and Tarek, to the police station to find out where her husband, father and brother were.
The police refused to provide any information. They were extremely rude, and ended up arresting Yacoub, the youngest in the Yildirim family.
"The police said we are under emergency law, they can do anything and we couldn't do anything about it," reveals Asli.
Thus far, Tarek — a Turkish citizen married to a Frenchwoman – was the only male family member to have escaped the police. A resident of Mulhouse, an eastern French town, Tarek had come down to Turkey for a family wedding. But as the crisis hit his family in Antalya, he sent his wife and three kids back to France and stayed back to try and help.
That's when Tarek himself got trapped by the government's witch-hunt.
This particular twist in the family's saga is especially difficult for Asli. The pale, gentle physics tutor stares straight ahead, the corners of her mouth droop as she starts to recount her experience. Around her, Asli's family members sit quietly on the couches in her living room, offering wordless support.
"The lowest point was when I learned my husband was tortured," she says flatly.
She realised her husband was tortured when the police called and said they urgently needed her to bring clothes and slippers – not shoes – for her husband.
"By the time I got this call, we had already learnt from the TV that they were torturing detainees. I understood at once that something was wrong, and that they [the police] had done something to his [Semih's] feet."
"The lowest point was when I learned my husband was tortured."
The family now started doing the rounds of city hospitals, hoping to find Semih. Word had spread around the city that tortured detainees were being treated in public hospitals.
But that's where Tarek got arrested — after they traced Semih to a hospital room and tried to see him.
"A policeman told me that if my family tried to return, they would kill Semih," explains Tarek.
Tarek was released on February 24, after spending six months in jail. His brother, Farouk, the journalist, was released a month later, after spending eight months in detention.
The two brothers were detained for "belonging to FETO" and their cases are still going through the courts. They asked that all the family members' names be changed for fear of being targeted during the judicial process.
So far, Asli's two brothers have been released. But her husband, father and youngest brother remain in detention.
Nobody has any explanations for why some have been released while others are still in detention. Neither can they explain why Semih was tortured while the others were apparently spared.
The arbitrary nature of the detentions, treatments in jail and releases is just one of the factors compounding the family's distress.
"I have never seen a gun or weapon… What could we have possibly done?"
Suddenly, Asli's mother, Elif, an elderly woman with a face pinched with stress who has not spoken a word so far, pipes up. "I just want to say I have been married for 44 years and I have never seen a gun or weapon. My son, Farouk, does not even let me kill insects. He says they are living things, God's creatures. What could we have possibly done? Why are they punishing us?" she pleads, wiping her tears with the corner of her headscarf.
Next, she brings out the family album and displays photographs of a smiling young couple: her youngest, Yacoub, and his fiancee. They were supposed to get married this spring.
But Yacoub is still in jail and the wedding plans have been scrapped.
What about the Gulen movement though? Were the Gulenists behind the coup?
So far, Western governments and intelligence officials say Turkey has tried on different levels to convince them that the Gulen movement was behind the coup, but Ankara has not managed to supply clear evidence of the government's case.
"Even before July 15, the government had launched a large wave of purges. That is why elements within the military thought they should quickly launch a coup before they too were purged. But it was too late and they were purged as well," German intelligence chief Bruno Kahl told Der Spiegel last month.
Even if some Gulen members were responsible for the coup attempt, or it was masterminded by senior members of the movement, it's unlikely that tens of thousands of people like Asli and her family could have been aware or involved in a plot that is highly secretive by its very nature.
Experts who have studied the Gulenists say the sheer scale and shadowy nature of the movement makes it difficult to trace organisational structures. And it is the scope and nebulousness of the movement that has left its adherents particularly vulnerable to state abuse with no plans for recourse.
"Lawyers and human rights groups told us they could not do anything. They said I should just try to keep my family together and safe. We can do nothing but pray," says Asli.
"If the 'No' wins, there may be more torture in the prisons."
Her two brothers, recently released from prison, seem as resigned as their sister to their fates.
"We had plenty of time to think in prison, but we could not find a solution, there is nothing to do but pray," says Farouk, the former Zaman journalist.
He has just learned that four of his colleagues who were released like him had just been rearrested.
Yet the idea of going underground does not cross his mind.
"What's the point of hiding? I have done nothing wrong," he says in a defeated tone.
The family is too trapped in their misfortunes to care about politics or the April 16 constitutional referendum. "We have no political ally to support us. Erdogan didn't need a referendum to imprison us. If the "No" wins, there may be more torture in the prisons, they might try to take revenge. In any case, the campaign of fear will continue," Farouk predicts.
Nevertheless, the entire family plans to vote "Hayir" (No) on April 16. "It's our democratic right," Farouk explains.

Meanwhile Asli says she is trying to follow her lawyer's advice and protect her children, as well as her nieces and nephews, from the trauma engulfing the family.
On a sunny Anatalya afternoon, she appears to be successful: her children play happily with their cousins, the girls make a giggling appearance in identical pink tracksuits, they do their homework together and laugh with all the carefreeness of their age.
It's only when Asli and her mother struggle to hold back tears that the children turn serious.
And yet the situation has affected them more deeply than it appears.
Asli recounts how her mother-in-law recently caught her six-year-old son stealing a pomegranate from the neighbour's tree. When she asked her grandson why he was stealing, he replied: "I'm stealing this pomegranate so that the police arrest me and take me to prison, so I'll be with Daddy. I will return it as soon as Daddy leaves jail."
Across Turkey, an innumerable number of children are trying to make sense of what's happening to their parents. The adults, for once, have no explanations either.
*All names in this profile have been changed.
---
Credits:
A report by Leela Jacinto for France 24
Texts: Leela Jacinto
Photos: Mehdi Chebil
Editor: David Gormezano
Editor-in-chief: Sylvain Attal, Marie Valla
Graphics and development: France Médias Monde Graphics Studio
---
Other Episodes
Turkey, The great purge – Four lives upturned by Erdogan's 'cleansing.' Episode 2 – Mehmet
Turkey, The great purge – Four lives upturned by Erdogan's 'cleansing.' Episode 3 – Omer
Turkey, The great purge – Four lives upturned by Erdogan's 'cleansing.' Episode 4 – Betul
Source: France 24 , April 12, 2017
Tags: Europe | France | Military coups in Turkey | Persecution of Hizmet by Erdogan | Turkey |