Date posted: April 9, 2017
The UK Home Office has recognized that being a Fethullah Gülen sympathizer in Turkey may be grounds for asylum in the UK.
Issued on April 7, a 60-page note that is policy guidance to Home Office decision-makers on handling particular types of protection and human rights claims exposed violations against people linked with the Gülen movement, especially after a coup attempt in Turkey on July 15.
"Since the attempted coup, and in particular since the declaration of a state of emergency, there has been a focus on any persons or groups perceived as being linked to the Gülenist movement, particularly in the education, media, military and justice sectors. Tens of thousands of people have been suspended or dismissed from their jobs, including senior military officers, government officials, police officers and school teachers," said UK Home Office in the note.
"There have also been reports that people may be detained for being a suspected Gülenist even when they have not engaged in, or supported, or been involved with the coup attempt. There are also reports of relatives and friends of Gülenists being detained."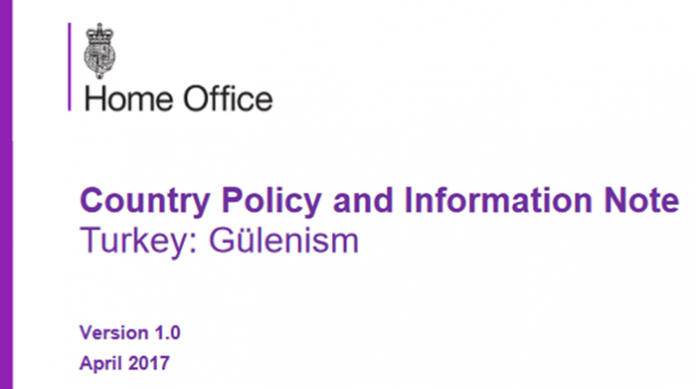 In this respect, the note recalled the arrest of Hacer Korucu, wife of Bülent Korucu, editor-in-chief of the Yarına Bakış daily, and the arrest of Sermet Şükür, father of former ruling Justice and Development Party (AKP) deputy and former football star Hakan Şükür.
According to the note: "Where there is a real risk of mistreatment simply on the basis that the person is a Gülenist/ suspected Gülenist/ relative or friend of a Gülenist, rather than due to any involvement in the coup or other unlawful activity, this is likely to amount to persecution on grounds of political opinion."
"Mistreatment may include arrest, detention and prosecution."
The Home Office note also said that 'there have been reports that in some cases detainees have not been allowed access to their legal representatives for four days or longer. There have also been reports of some detainees being ill-treated whilst in custody.'
"The onus is on the person to show that on the particular facts of their case any treatment they might face on return to Turkey would amount to persecution because of their political opinion. This may include denial of access to a fair trial and punishment which would be either dis proportionate or discriminatory," said the note.
Turkey experienced a military coup attempt on July 15 that killed over 240 people and wounded more than a thousand others. Immediately after the putsch, the Justice and Development Party (AKP) government along with President Recep Tayyip Erdoğan pinned the blame on the movement.
Although the Gülen movement strongly denies having any role in the putsch, the government accuses it of having masterminded the foiled coup. Fethullah Gülen, who inspired the movement, called for an international investigation into the coup attempt, but President Erdoğan — calling the coup attempt "a gift from God" — and the government initiated a widespread purge aimed at cleansing sympathizers of the movement from within state institutions, dehumanizing its popular figures and putting them in custody.
In the currently ongoing post-coup purge, over 135,000 people, including thousands within the military, have been purged due to their real or alleged connection to the Gülen movement, according to a statement by the labor minister on Jan. 10.
According to a statement from Interior Minister Süleyman Soylu on April 2, a total of 113,260 people have been detained as part of investigations into the Gülen movement since the July 15 coup attempt while 47,155 were put into pre-trial detention.
Contrary to accusations made by President Erdoğan and the Turkish government, the Foreign Affairs Committee of the UK Parliament has concluded last month that Gülen and the movement he inspired as a whole were not behind a failed coup attempt in Turkey on July 15.
The UK Parliament statement came a week after Germany rejected Erdoğan and the Turkish government's accusations against the Gülen movement about July 15.
The head of Germany's Federal Intelligence Service (BND), Bruno Kahl, said Turkey could not convince them that US-based Turkish-Islamic scholar Gülen was behind a failed coup attempt on July 15.
Similarly, Devin Nunes, chairman of United States House Permanent Select Committee on Intelligence, said he has not seen any evidence showing Gülen's involvement in the failed coup attempt in Turkey.
Source: Turkish Minute , April 9, 2017
Tags: Hizmet (Gulen) movement | Human rights | Persecution of Hizmet by Erdogan | Turkey | Turkish Asylum Seekers | United Kingdom |