Date posted: October 3, 2015
People undertake travel for a spectrum of reasons that range from the economic to the voyager; journeys that are spiritual, social, aesthetic, emotional or emotional, with combinations and blends, that bleed and stain from one root cause to another. My own motivations generally encompass the spectrum—the journey to SE Asia with Hizmet was no less a mix tape coming out of my own life's work with education and culture contact and a desire to understand first hand, what others see and know. As such, it was a series of aspirations and dreams fulfilled. From the Buddhist temples of Bangkok to the 'Killing fields' of Phnom Pen and from the 6th grade science lab, the IB egg drop test to xxx, the trip still stirs stories, memories and juxtapositions of humanity, of perspective and consciousness . As an educator, a participant in leadership in one's own communities and an eyewitness to history, there are three selections from my journey that bear further attention: 1) the Hizmet school in Bangkok, 2) the juxtaposition of Cambodia' 'Killing Fields" and reconciliation conference, and 3) the overall approach of Hizment to building social capital through the SE Asia journey and through exposure to others.
The Hizmet School in Bangkok
Visits to Temples, Museums, Schools and other places of education and the transmission of knowledge and culture, all taught me much about this region of the world, opening doors to a further thirst for knowledge. At the Hizmet school, I was pleased to see several displays of student work highlighting study of issues of culture contact, racism and gender equity. Where some schools concentrate only on science and engineering, these schools paid particular attention to the interplay of cultures in the social milieu and the need to develop leadership with the tools to develop new approaches for people to cooperate with each other. In my own work, I have found far too many examples of persons with advanced education who understand little of cultural, racial and gender understanding. Seeing this vital area of education in the Hizmet schools in Bangkok was very heartening.
The Killing Fields and Cambodian Reconciliation
These are some of the almost 1 million skulls housed in the memorial of the 'Killing Fields' outside of Phnom Pen, Cambodia. I shudder every time I think of the place, and it has profoundly affected my thinking about how we teach current events and cause and effect. Almost 50 years later, I believe that US bombing of Cambodia during the Viet Nam War helped bring about the Cambodian government change, the Khmer Rouge and Cambodian holocaust. Working with other educators at a Cambodian Reconciliation conference at a local university helped me put perspective on my own classrooms and service. I am very appreciative of their work and dedication to moving their society away from historical places of one group killing another. Reconciliation inside a country is very difficult, especially when it follows on the heels of a genocide.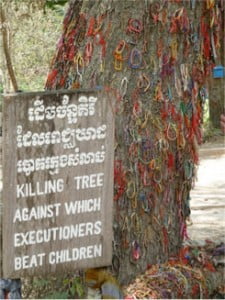 The Cambodians' ability to use the work of Gandhi and Nelson Mandela has further inspired my own work. I still awaken at night from horrific dreams of the "Killing Tree"; my own work on the Commission on Children and Families including lectures before the state's Bar Association (lawyers conference)was so opposed to the mistreatment of children, thaty opposition to the images of slaying babies is fundamental to my being. It is in their memory: the Cambodians and the lost children, that I continue my own journey that has led me from urban riots in the 1960s, to culture contact study in education, to school desegregation, affirmative action, university diversity work, and racial and cultural equity in governmental participation.
What is social capital?
Robert Putnam, (2000) who also has spoken here at PSU on campus wrote: "Whereas physical capital refers to physical objects and human capital refers to the properties on individuals, social capital refers to social connections among individuals—social networks and the norms of reciprocity and trustworthiness that arise from them…social capital calls attention to the fact that civic virtue is most powerful when imbedded in a dense network of reciprocal relations." The La Jolla Institute has suggested that 'Civic virtue and trust are most powerful when located in a dense network of reciprocal relations' (2003), and my perspective in Cambodia was that using education to help create and maintain civic trust in the problem solving, could be key in addressing the gaping wounds caused by the genocide of millions of one's own people. I am hoping for continued relationships with my new colleagues in Cambodia. They look to the work of Mahatma Gandhi, Nelson Mandela, Dr. Martin Luther King Jr, Rev Ralph David Abernathy, and US Congressman John Lewis, to help locate their search for healing in their society. So do we, whether we are trying to doff the legacy of slavery and racism in the US, or supporting the demand of Black Caribbean people for reparations from the United Kingdom's colonial policies and continued segregation and economic mistreatment. My colleague, Angela Bowen, a Native Peoples' educator and Oregon State Board of Education member, reminded us recently, that "we are all connected". That indigenous-rooted cultural approach helps remind us of our social need to be interconnected and of the need for creating reliance upon one another. In a 2010 research effort on Hizmet education, I referred to Hizmet's capacity for building social capital.
Muhtaroglu (2009) states: "Gulen does not offer us any systematic theory or theoretical system to analyze and recognize the value of his ideas, the activities he encouraged and the movement he inspired. The best way to understand Gulen, to overcome this difficulty, is to approach him through his "practical wisdom" because he emphasizes action much more than theories." My observations from SE Asian travels meet Gulen's Love and Tolerance (2006), as Hizmet-sponsored trips serve as a supplement to life journeys already embarked upon. Journeys of valuing and extolling good schools, accurate and explaining history and culture in museums, and temples that serve to explicate transcendence. For me, it is also a journey on the pathway of acknowledging the harm and the evil that we have done to one another as a means of working toward a better, healthier state of collective social and emotional health. The use of concepts like 'social capital' further evoke the reconstruction of a spiritual social identity that values positive leadership along with social justice and cohesion. Journeys with Hizmet become forays along the avenues of our transformation even while those journeys persist in our consciousness as significant milestones of progress: we becoming better than we previously have been.
---
Samuel D. Henry is Director of the Portland State University School of Gender Race and Nations and an associate professor of education. He serves on the Oregon State Board of Education and the Advisory Board of the Portland Turkish-American Community Center. He has travelled and worked in more than thirty countries.
Source: PACIFICA Institute , September 28, 2015
Tags: Education | Peacebuilding |