Date posted: November 28, 2014
Local non-profit, government, community leaders, and faculty from local college and universities around Greater Pittsburgh Area gathered together on Thursday evening, November 20th, at the Westin Convention Center to celebrate 14 years of cultural dialogue and understanding in Pittsburgh. The event, sponsored by The Peace Islands Institute (PII) and The Turkish Cultural Center of Pittsburgh Pennsylvania (TCCP), has grown each year to host Pittsburgh's most influential community leaders. This year, the event hosted more than 300 distinguished guests including local and federal politicians and officers, NGO representatives, faculty, and other community leaders.
The evening began with a reception in which attendees enjoyed the silent auction for TCCP's local and global projects and the photo exhibition created by Prof. Dr. Serif Ali Tekalan and Jeffrey B. Jones. The reception was followed by opening remarks by TCCP representatives and this year's emcee, Ali Sezer, Professor at California University of Pennsylvania. Keynote speaker Chris Fennimore, host of WQED Cooks and 2014 Regional Emmy Award Winner, took the stage to present his unique experience with food and people, addressing the importance of friendship, conversation, and dialogue. This renowned yearly event was honored by 12 university presidents from three continents over the world and the live performance of the Whirling Dervishes of Rumi. At the end of the dinner, in which Turkish chefs prepared Turkish cuisine, the dervishes presented a spectacular spiritual performance including traditional Turkish and Islamic motives.
There were three distinguished awards presented at this year's dinner: Alison McMutrie, Co-founder and Executive Director, received the International Sustainable Development Award on behalf of Haitian Families First; Sister Janice Vanderneck, Director, received the Public Service Award on behalf of CASA SAN JOSE; Geraldine Jones, Interim President, accepted the Academic Excellence Award on behalf of California University of Pennsylvania. The awards were presented by Congressman Mike Doyle, Prof. Dr. Serif Ali Tekalan, President at Fatih University of Turkey, and Representative Rick Saccone. While Congressman Doyle addressed the importance of immigrant population of Pittsburgh and NGOs contribution for their education and service, Dr. Tekalan highlighted the essential of humanity, tolerance, love, and unity as he emphasized the role of international collaboration for mankind.
Each awardee and award presenter stated the growing effort of Peace Island Institute and Turkish Cultural Center of Pittsburgh Pennsylvania in both Pittsburgh, locally, and over the world, internationally. This year, TCCP has collaborated in a number of institutions including California University of Pennsylvania and Saint Vincent College on international projects including Water Wells Projects and Student and Faculty Exchange Programs, and International Conferences.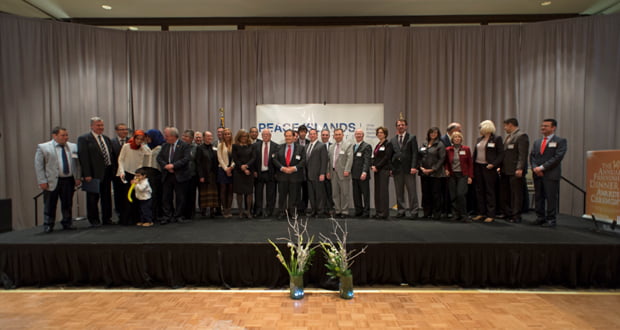 Source: Turkish Cultural Center , November 25, 2014
Tags: North America | Peace awards | Peacebuilding | USA |