Date posted: August 12, 2014
The International Panel for Sharing Coexistence Experience brought together the representatives of the religions in South Korea and the religious groups in Turkey in Seoul, the capital of South Korea.
The panel was jointly organized by the Korean Conference on Religion and Peace (KCRP), the Istanbul Cultural Center, which operates in South Korea, and the Intercultural Dialogue Platform (KADİP) of the Journalists and Writers Foundation (GYV).
The Turkish delegation consisting representatives of Muslim, Syrian Catholic, Armenian Orthodox, Greek Orthodox, Latin Catholic and other ethnic and religious communities in Turkey met representatives of Buddhism, Protestantism, Catholicism, Won Buddhism, Cheondoism, Confucianism and other local religions in Korea the panel.
Professor Muhit Mert, the dean of the Faculty of Theology at Fatih University, Professor Niyazi Öktem, a lecturer at the Faculty of Law at Fatih University, KADİP Secretary-General Kudret Altındağ, Kuzguncuk Armenian Orthodox Church Priest Şnork Donikyan, and Syriac Catholic Community Foundation President Zeki Basatemir, Korean Orthodox Metropolitan Bishop Ambrosyus Aristotelleve, who represented the Ecumenical Patriarchate of Constantinople Patriarch Bartholomew, and Peder Dominik, who represented Latin Catholics in Turkey, attended the program hosted at Koreana Hotel.
Giving the welcome speech, KCRP Secretary-General Byun Jin-heung indicated that they were glad to hold such a program with Turkey. Byun expressed that they sought to boost their dialogue with the Muslim world.
Professor Muhit Mert, who led the Turkish delegation, pointed out: "The world is weary of conflicts and wars. Humankind is in search of peace." Mert asserted that religion plays a major role in alleviating the social problems. "It is an undeniable fact that interfaith dialogue programs will be crucial in problem solving at a time when borders between countries are blurring and mass communication technology is developing apace," he said.
During the panel, KADİP Secretary-General Altındağ took the floor to note that mutual visits should be held to boost mutual recognition as people who don't know each other are prone to see each other as enemy.
Professor Niyazi Öktem maintained that little is known in Turkey about the religions of the Far East and, likewise, Islam is not sufficiently recognized in Korea, and he suggested that a dialogue institute should be jointly established to conduct comparative academic studies on these religions.
KCRP Secretary-General Byun indicated in his closing speech that they plan to hold similar programs with Turkey. Byun expressed his thanks to the joint organizer, Istanbul Cultural Center, the Korea-Turkey Business Association (KOTUBA) and Rainbow International School, run by Turkish businessmen, for their contribution to the panel.
Priest Donikyan noted that this was the first time he visited the Fear East and closely observed Far Eastern religions such as Buddhism. Stressing that it is important for practitioners of different religions to know each other closely, Donikyan stated that such organizations will make positive contributions to the world peace.
When Korean participants likened Syriac Catholic Community Foundation President Basatemir to famous US actor Mel Gibson, which made everyone smile.
After the panel, visits were paid to the leaders of various religious organizations in Korea.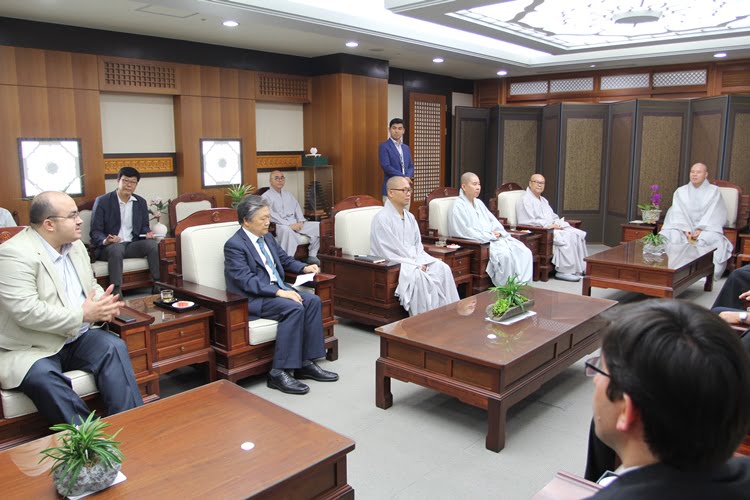 The KADİP delegation visited Korean Buddhist Jogye Order Leader Jaseung and Latin Catholic Bishop Kim Hee-joong and other Buddhist, Protestant, Catholic, Won Buddhist, Cheondoist, Confucianist leaders as well as other leaders of local religions in Korea, and invited them to Turkey to participate in interfaith dialogue activities.
The KADİP also paid a visit to the National Assembly of South Korea and was greeted by Choi Jae Cheon, a deputy who is a member of the Turkish-Korean Friendship Group.
The KADİP seeks to bring together practitioners of diverse cultures, religions and ethnicities to boost mutual awareness and foster peaceful coexistence. It plans to pay visits to different countries every year.
Source: Journalists and Writers Foundation , June 28, 2014
Tags: Dialogue | Journalists and Writers Foundation | South Korea |