Date posted: April 18, 2013
April 18, 2013 / HizmetNews, NEW YORK
Mr. Fethullah Gulen has been named as one of TIME Magazine's 100 most influential people in the world in 2013. TIMEr ecognized Gulen for "preaching a message of tolerance that has won him admirers around the world." The 2013 TIME 100 includes other noted world leaders such as Pope Francis, Aung San Suu Kyi, Malala Yousafzai and President Obama. In the past, TIME has honored global leaders such as the Dalai Lama and Pope Benedict XVI in their TIME 100 list.
Gulen is an Islamic scholar, preacher and social advocate who dedicated his life to interfaith and intercultural dialogue, and reinterpreted aspects of Islamic tradition to meet the needs of contemporary Muslims. He is the inspiration behind Hizmet, a civil society initiative that advocates for the ideals of human rights, equal opportunity, democracy, non-violence and the emphatic acceptance of religious and cultural diversity. Hizmet brings to life these principles through the work of its participants in community service, intercultural dialogue and education.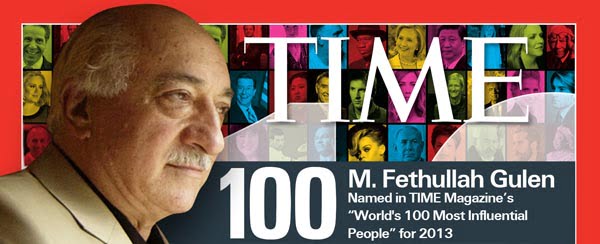 Over the years, Hizmet volunteers have established more than 1000 schools, dormitories and tutoring centers, taught college preparatory courses, mentored students, and provided financial aid to those in need. With a focus on science, math, social science, art and literature, its award-winning schools have been set up in more than 100 countries around the world — from Eastern European and Eurasian countries to Afghanistan and Pakistan; from South East Asian countries to Australia as well as in the United States and in 49 countries across Africa.
"Mr. Gulen has taught us to not only emphatically accept religious, cultural, social and political diversity, but actually celebrate diversity because he considers this diversity divine will," said Alp Aslandogan, president of the Alliance for Shared Values. "Mr. Gulen has dedicated his life to interfaith tolerance and peaceful coexistence with people of all faiths and backgrounds."
More about Gülen
Gülen is a Turkish Islamic scholar well known for his teachings promoting mutual understanding and tolerance between cultures. Now residing in the US, Gülen has pioneered educational activities in a number of countries, along with efforts to promote intercultural and interfaith activities around the world.
He has also written nearly 50 books in Turkish, some of which have been translated into several languages. He was most recently honored with the EastWest Institute's (EWI) 2011 EWI Peace Building Award for his contribution to world peace.
Throughout his life and until today, Gülen has been greatly influenced by the ideas and writings of many Muslim scholars, such as Said Nursi, Mawlana Jalaladdin Rumi, Abu Hanifa, Ghazali, Imam Rabbani and Yunus Emre.
Gülen is regarded as the founder and inspirer of the global social movement known as the Hizmet (Service) Movement, more popularly known as the Gülen Movement.
In 1959, Gülen was awarded a state preacher's license in Edirne, Turkey. He was then transferred in 1966 to a religious post in İzmir. It was in İzmir that Mr. Gülen's progressive ideas of education, science, the economy and social justice began to take shape and his supporters began to increase.
During this time, he traveled to various provinces in Anatolia giving lectures in mosques, coffee houses and other community meeting places.
In 1994, Gülen co-founded the Journalists and Writers Foundation (GYV) and was given the title "Honorary President" by the foundation.
In March 1999, upon the recommendation of his doctors, he moved to the US to receive medical care.
Despite the high regard millions hold for him, Mr. Gülen considers himself a volunteering member of the civil society movement he helped found and does not accept any credit of leadership for the Hizmet (Service) Movement.
Gülen currently resides in Pennsylvania and continues to write and give talks on various subjects.
Tags: Fethullah Gulen | Peace awards |