Date posted: April 19, 2012
RANA ÖZTÜRK | KUALA LUMPUR – 17.04.2012
University of Technology Malaysia (UTM) hosted a seminar to discuss the educational development model of the Hizmet (Gulen) Movement – a movement inspired by prominent Islamic scholar M. Fethullah Gülen from Turkey. The seminar, under the theme of "Religion Inspired Private Foundations and Educational Development: The Case of Hizmet Movement of Turkey", focused on understanding the underlying values, philosophy and dynamics of the Movement alongside Fethullah Gülen's personality and ideas.
More than a hundred participants including the Vice-Chancellor of the university, senior officials, academicians and students from different universities of Malaysia were present at the event co-organized by the Center for Advanced Studies on Islam, Science and Civilization (CASIS) under the Faculty of Islamic Civilization, UTM and the Malaysian-Turkish Dialogue Society (MTDS).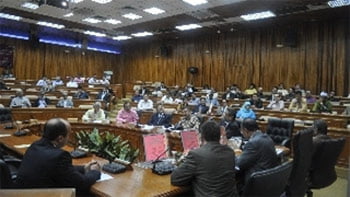 In his Welcoming Remarks, Prof. Dr. Wan Mohammad Nor Wan Daud, the Director of CASIS, noted that everyone can learn and benefit from the Hizmet model. Prof. Wan Daud later in his seminar speech said that Hizmet is the most widespread and influential Islamic movement today. He shared his understanding about the educational philosophy of M. Fethullah Gülen as well as his impressions from his two-week long research trip to Turkey last year, where he visited various institutions and people associated to the Movement.
The President of Malaysian-Turkish Dialogue Society (MTDS), Dr. Alettin Duman, addressed the audience and shared his insights about the philosophy of the Movement core to its educational and other civic activities in more than 140 countries all around the globe.
Talking about "The Religious Rationales and Social Basis of Hizmet Movement in the Writings of M. Fethullah Gülen", Prof. Dr. Maimul Ahsan Khan from the University of Dhaka, Bangladesh said that his typical understanding of Turkey has completely changed after he started reading about Gülen. Professor Khan stated that Fethullah Gülen, who is portrayed as modern Rumi, has brought a new paradigm in social activism basing it on Islamic spirituality.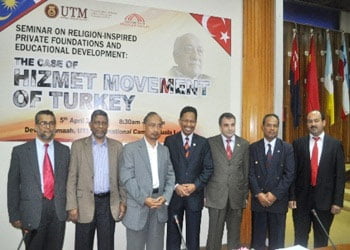 The Professor, author of a book entitled The Vision and Impact of Fethullah Gülen, also said "Gülen has undertaken a gigantic task of presenting universal Islam in the West as well".
The panel addressed various questions from the participants regarding the Movement at the end of the seminar held at the university's International Campus in Kuala Lumpur.
Source: CIHAN NEWS AGENCY http://en.cihan.com.tr/caption/Gulen-Movement-Discussed-in-Malaysia-Seminar-CHNjgxMDY1LzQ=
Tags: Asia | Conferences on Gulen | Malaysia |