Date posted: March 23, 2017
The deaths of 53 individuals who allegedly committed suicide either after being imprisoned, released or due to fear of being taken into custody over perceived links to the July 15 coup attempt should be considered suspicious until a thorough probe is carried out for each case, the Stockholm Freedom Center (SCF) said.
The Sweden-based monitoring group documented in a recent report 53 cases of what it described suspicious deaths both in and outside of Turkish prisons after the coup attempt.
SCF said 22 people were killed while under custody, 5 in police custody and the remaining 26 individuals suspected of having ties to the alleged coup plotters died outside.
The government accuses the Gülen or Hizmet movement of organizing the coup attempt on July 15.
"The Stockholm Center for Freedom observed that relatives of victims were reluctant to provide information about investigating suspicious deaths because they were concerned that they would face punishment and similar problems if authorities became aware of that," the report read.
"Because of the fact that autopsy reports and investigation files were kept confidential, the information about suspicious deaths had to be obtained mainly from open sources. The government blocks access to information, suppresses the coverage of and does not share documents about these deaths with the public."
The National Police Department warned all its personnel to obey international rules of detention and to stop using unofficial detention centers days before a delegation from the Committee for the Prevention of Torture (CPT) was to pay a visit to Turkey in order to ascertain if people in custody are subject to any maltreatment in late August, 2016, according to an anonymous tip received by Turkey Purge.
Torture practices ranging from exposure to icy water to rape
SCF said it suspects the officials at official and unofficial detention centers employ torture practices as claimed by some of the statements and criminal complaints made by defendants and their family members.
"These practices range from verbal abuse and threats to physical violence that includes beatings, rape, exposure to icy water, strappado, sleep deprivation, denial of food and water, limiting access to fresh air, restricting exercise and forced alcohol and drug consumption," the report read.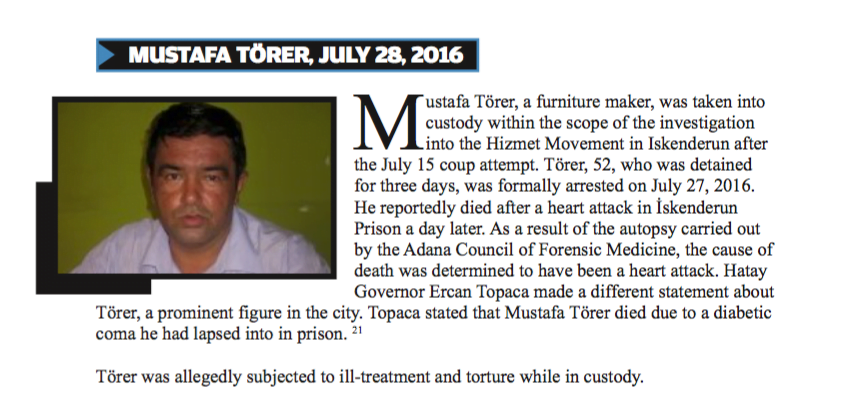 Source: Turkey Purge , March 21, 2017
Tags: Human rights | Military coups in Turkey | Persecution of Hizmet by Erdogan | Torture | Turkey |