Date posted: June 9, 2015
Dear Friends of Anatolia Cultural and Dialogue Centre
ACDC received 4.000 USD donation for building water well in Benin. We appreciate donors whom heard Benin People needs. KYM volunteers in Benin will start to build the water well in coming days.
According to the researches, over 1 billion people around the world do not have access to clean water. Anatolia Cultural and Dialogue Centre is hoping to change that for the residents of a town in Benin where hundreds of families are living without this very basic need.
Our latest fundraising initiative, in partnership with Kimse Yok Mu? —a non-profit organisation that provides humanitarian aid and disaster relief around the world — will help build several wells in Benin, benefiting hundreds of families across the region with more donations.
The first water well that will be built will be named "In Friendship of Turkey and Hong Kong" to make our friendship permanent and to show that people of both countries work together to spread peace in the world.
Help us bring more helps with this essential basic human need to the people of Benin and contribute this endless friendship. Give as little or as much as you can, every dollar counts in the goal to make safe drinking water a reality in this region. There are many ways to donate!
Click here where you can donate directly to our Bank Account. You may also go directly to the Kimse Yok mu? website where some ongoing projects are listed under " Clean Water Projects." You can also stop by our center during regular business hours (9 am – 7 pm / Mon – Sat) to make a donation in person by check or cash.
Unable to give money but would still like to help? We are always looking for volunteers to help us get the word out about our initiatives. Please share our donation link on your social media pages to give your friends and family an opportunity to learn about how they can participate in this worthy cause!
For more information on Kimse Yok mu?, or to see how your money will be used to directly benefit those in most need of safe, clean drinking water, click here.
---
* Kimse Yok mu? initiated its "Water Wells" campaign in 2011. Since then, with the help of its volunteers and sponsors, 1710 water wells have been built as well as 282 of them that are still under construction in 19 country with little or no access to drinking water. These wells are currently functioning to help ease the difficulty of obtaining clean water for the locals in these regions.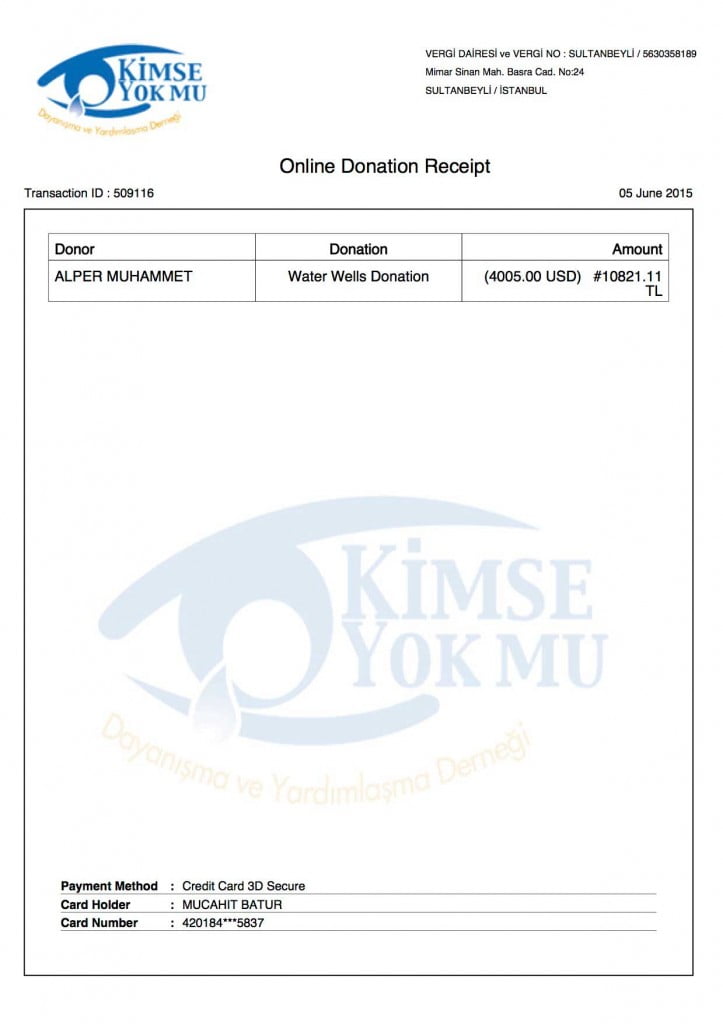 Source: Anatolia Cultural and Dialogue Centre
Tags: Benin | Humanitarian aid | Peacebuilding |