Date posted: March 9, 2015
HİDAYET KARACA
Currently, those who are concerned about the state of freedom in Turkey are paying a heavy price.
Those who raise demands for democracy and transparency are being raided, arrested or smeared as a result of the government's reliance on Nazi Germany methods of persecution and oppression. The legal chaos Kafka described in a book he wrote in 1914 has turned into a reality a century later. The files compiled in secret rooms based on instructions from high-level officers and figures, the innocent people who do not even know the charges against them, the hearings without defendants and defense statements, the restricted freedoms and in particular the judges who make unlawful rulings…What this great writer depicted one hundred years ago is not something we are unfamiliar with in present-day Turkey. I was placed under arrest without even a single piece of evidence. And the decision for my arrest was made by the Penal Courts of Peace system, which was established as a project from the top by the government. And by the time I finish this piece, I will have been under arrest for 73 days as part of a plan to trigger chaos in the country.
In this cell where I am deprived of my freedom, I am closely following the course of events in my country. I sadly realize that the oppression and persecution has gone beyond the boundaries of brutality. I feel the pain of those who are subjected to the same treatment, including journalists. Like every person who wants freedom and peace, I am afraid of the complete elimination of the culture of democracy. I become even more concerned seeing that unconstitutional laws are being passed in Parliament through a reliance on majority vote. The political actors that introduced a number of antidemocratic provisions are aggravating this climate of intimidation and fear. Yet I preserve my hopes. I see that there are many colleagues, academics, intellectuals and politicians who do not submit to these pressures. This makes me hopeful that we will live in a democratic country.
As I see the reactions from different parts of the world, I realize that I am not alone in this walk towards peace and freedom. The European Parliament strongly reacted against the operation against the free media on Dec. 14, 2014. In a unanimously adopted motion, the parliament strongly condemned this coup against press freedoms.
Voices supporting free media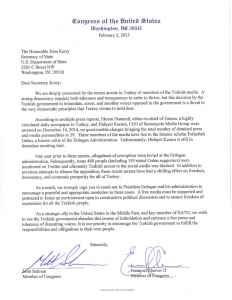 Congressmen in the US sent a letter to US Secretary of State John Kerry in reaction to the operation against the free media. Joel Simon, head of the Committee for Protecting Journalists (CPJ), one of the most respected independent institutions in the world, sent a letter to Prime Minister Ahmet Davutoğlu urging him to take measures to stop attacks against media. A number of international organizations and institutions, including Freedom House and Human Rights Watch, raised their voice for the rights of myself and other colleagues. Even this case alone shows that the political repression in Turkey attracts a great deal of attention in the world.
Even though authoritarian barriers are being constructed, I am not detached from the world. I am full of hope. Those who dare to pay the price for the future of Turkey will not allow those who want to disconnect Turkey from the free world to do so in an attempt to protect their narrowly defined personal interests. This resistance will destroy all barriers to freedom, because freedom comes with a price.
---
*Hidayet Karaca is chairman of the Samanyolu Broadcasting Group.
Source: Today's Zaman , March 04, 2015
Tags: Democracy | Freedoms | Hizmet and media | Turkey |