Date posted: July 30, 2012
On 7th June 2012 at 11.30 hrs., Mr. Yusuf Can Bektaş, the Principal of Elementary School of Pan-Asia International School led a delegation of three Thai students from Turkish schools in Thailand participating in the 10th International Turkish Olympiad in Turkey, including Mr. Sirapat Benjachaya, Ms. Sirineya Viseur and Mr. Anif Hayeenawhere, to pay a courtesy call on H.E. Mr. Rathakit Manathat, Ambassador of the Kingdom of Thailand to the Republic of Turkey at the ambassador's residence.
Also present there were Ms. Rukiye Turgut, a Turkish teacher from Chindamanee School, Mr. Henry Jiang and Mr. Anas Ali, UNESCO Youth Peace Ambassadors accompanying the delegation of the Thai students to observe the competitions, three Thai students studying in Ankara and the Embassy's staff.
The International Turkish Olympiad was first held in 2003 with the objective of enhancing the use of the Turkish language around the world, encouraging foreign students to study Turkish as a foreign language, and providing a cultural exchange opportunity to the youth around the world. While the number of participating countries of the first Olympiad was only 17, there are 135 countries and approximately 1,500 students participating in the 10th Turkish International Olympiad. There are various categories of contests, e.g. grammar contest, speaking contest, writing contest, reading contest, song contest, poetry reading contest, country exhibition contest, etc.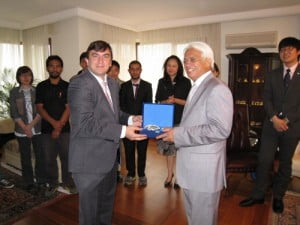 In this Olympiad Thai students won 4 awards in the competitions, namely a gold medal in the country exhibition contest, partially sponsored by the Thai Tourism Authority of Thailand, by the team of Chindamanee School's students, a bronze medal in the speaking contest by Mr. Sirapat Benjachaya from Wichai Wittaya Bilingual School (Chiangmai), an honorary mention in singing contest by Mr. Anif Hayeenawhere from Siriwat Wittaya Bilingual School (Bangkok) and an honorary mention in the poetry reading contest by Ms. Sirineya Viseur from Wichai Wittaya Bilingual School.
The topics raised in the discussion between H.E. the Ambassador and the delegation included the Embassy's roles in enhancing educational cooperation between Thailand and Turkey and supporting Thai students in Turkey's activities, especially the forming of the Association of Thai Students in Turkey, and the prospect of trilateral cooperation between the Embassy, the Association of Thai Students in Turkey and Turkish schools in Thailand.
Source: Royal Thai Embassy in Ankara , July 29, 2012
Tags: Asia | Education | Hizmet-inspired schools | Thailand |