Date posted: May 4, 2015
Kimse Yok Mu Foundation (KYM) continues to heal the wounds after the devastating flood in 2010 in Pakistan. The foundation earlier built the Ikbaliye town home to 296 families in the city of Muzaffargah. Now it's offering vocational classes to the town's women. 20 women received their certificates after completing 3 month-long sewing classes. They also received complimentary sewing machines and fabrics.
Governor of Muzaffargah Sevket Ali presented their certificates. "Kimse Yok Mu did and is still doing anything the victims need here," the governor said.
"Our homes were flooded. We were left with nothing. We became homeowners first and now professionals. Many thanks to our Turkish friends," said a woman.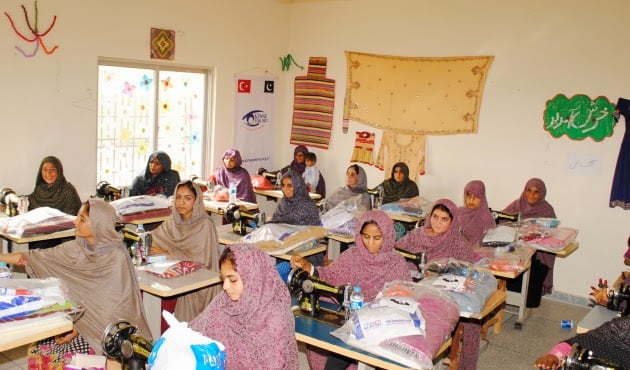 The foundation aims to train some 800 women through 3 month-long courses.
KYM Pakistan director Ozcan Inan spoke on the efforts since the 2010 disaster. "We built a town in our brotherly country Pakistan through the donations by Turkish people. We addressed the needs one by one over a long period of time and efforts. We also continuously provided meat, food and clothing assistance to the town people. We are so happy to see the participant women who lost their all to the flood now smiling. Many thank to those sending their donation to these people through KYM."
The Ikbaliye town, consisting of a mosque, school, sanitation services, cemetery and water storage, has been home to 296 families.
Excepted from the article published [in Turkish] on Haber3, 16 April 2015
Source: HizmetMovement.com , May 2, 2015
Tags: Education | Humanitarian aid | Pakistan | Peacebuilding |