Date posted: September 17, 2017
Australian Relief Organisation (ARO) recently completed its fifth Qurban Appeal. Thanks to generous donations, ARO was able to feed thousands of locals in Sri Lanka and Philippines.
Below are reflections from three volunteers who traveled to Sri Lanka and Philippines to distribute the meat packages from sacrificial animals. .
Muhammad Fahad Rabbani, a students from Sirius College Meadow Fair Campus, Melbourne
"With fellow students from Sirius College, Meadow Fair Campus in Melbourne, I volunteered to join the Australian Relief Organisation meat distribution trip to Sri Lanka.
Representatives from Intercultural Dialogue Foundation, ARO's partner organisation in Sri Lanka, hosted us and took us to show the deprivation of a poor country.
Instead, I actually saw the contentment of the poverty-stricken people. I saw the jollity in the eyes of the people over receiving just a certain amount of meat, the same meat we eat maybe three times or four times a week.
Despite living in one of the best countries in the world, I learned a lot from these villagers, something that no text book can teach. I learned how to be happy no matter what you are facing.
After this experience I came to a realise that there are still good people out there, like kind-hearted people of Australia, that care about others. I'm speechless about the whole experience and grateful to God for allowing me to be a part of this breathtaking opportunity."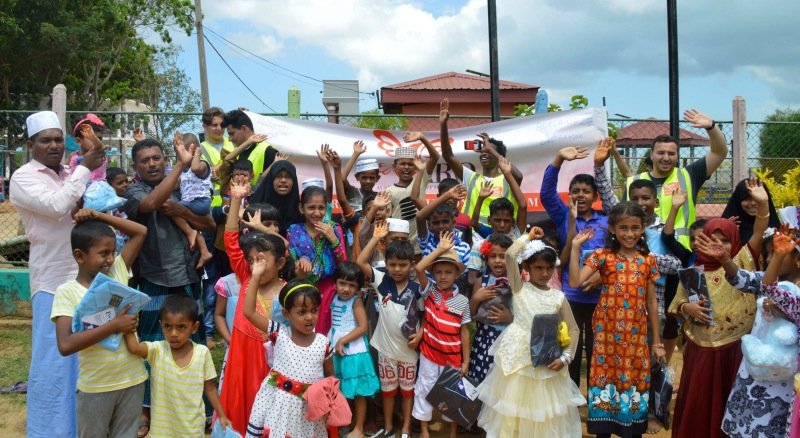 Zakaria Shire, a students from Sirius College Meadow Fair Campus, Melbourne
""My most memorable moment in the Sri Lanka trip was the instant when we were handing out the meat and gifts for the families and kids. The look on their faces described the purpose of our trip, seeing those kids laugh, smile and run around so happy knowing that they will be eating proper food and be able to have a full stomach maybe for the first time in a long time.
This is incredible, that's why I say to myself never lose hope in life cause there's people in this world who can help it's all about spreading the message. I urge you to look around and do more then help whether it is helping in fundraising or donating."
Abdullah Aksu, an volunteer from ARO's Sydney and Adelaide volunteer group
"On 31 Aug, myself and two other friends flew out from Sydney to partake in the Australian Relief Organisation Qurban campaign to distribute meat to the poor and needy in Sri Lanka. In earlier years, I always supported previous qurban programs, however this year was special for me as it was the first time of my involvement in distributing meat donations.
When we landed in Colombo, we were hosted by friednly reps of Intercultural Dialogue Foundation, ARO's partner organisation in Sri Lanka. They travelled around with us for 4 days.
On the first day of the festive celebrations, we travelled for 7-8 hours to Eastern side of Sri Lanka, to a town called Batticaloa. During this trip, we had several stops and socialised with friendly locals. They made us feel home despite being far away from our families on the day of Eid.
Once we arrived in Batticaloa, we were greeted by Mr Maulana who is a local MP of that region. There IDF reps organised logistics of the distribution, arranged the animals, co-ordinated the distribution bags, identified the poor and needy who would be receiving the meat as part of the program.
Every door we knocked on, people opened the doors with a big smile on their faces and warmth in their eyes. Every bag of meat we distributed, they accepted with much happiness, humility and gratitude. They were grateful that people from the other side of the world sent them aid on this special day. As we got into our car and drove away, we could see people still smiling and waving to us, and small kids running behind the car.
After this trip, I came to following conclusions:
(1) We should be very thankful for what we have and never take what we have for granted. (2) There are many people in this world who need assistance. Even the smallest of aid can mean a lot to them. (3) I will continue to support the ARO in all their humanitarian programs. There is so much more we do for those less fortunate people.
A special thank you to the ARO board, staff and volunteers for organising such a worthy & commendable aid campaign."
Source: Australian Relief Organisation
Tags: Australia | Humanitarian aid | Philippines | Sri Lanka |