Date posted: July 12, 2014
3rd Dialogue & Peace Iftar Dinner on 10th July, 2014 at Sheraton Hotel, Abuja emphasized the importance of dialogue and peace between different religion members and nations. During the program Dialogue and Peace Awards were given in various categories to the people who served for dialogue and peace recently in Nigeria.
Among the 350 participants were Ministers, Muslim and Christian leaders, vice chancellors, senators, and honorable members of House of Representatives, members of diplomatic core, academicians, businesspeople, member of civil societies and education.
Honorable Minister of Mines & Steel Development Arc. Musa Mohammed Sada was Guest of Honor who also gave a speech in the evening. Secretary General of JWF Dr. Muharrem Atlıg was the guest speaker of the dinner from Istanbul, Turkey. The Honorable Minister of Women and Social Development Hajia Zainab Maina also honored the night.
The Honorable Minister of Mine & Steel emphasized the importance of dialogue and peace in Nigeria and He said: "The month Ramadan brings a peaceful atmosphere to the Country that can bring more peace to people of Nigeria ."
The Guest Speaker Atlig has gave a speech of his experiences with Abrahamic religions and mentioned that: "We are together in Abrahamic tradition and we should follow the path of prophet Abraham to reach dialogue and peace between members of religions."
In his speech the President of Ufuk Dialogue Foundation said: "Every long journey starts with a first step, we start first with dialogue that means to talk together and then we walk to gather, at last we start to work to gather. This dinner is a fruit of 3 years journey of dialogue and collaboration."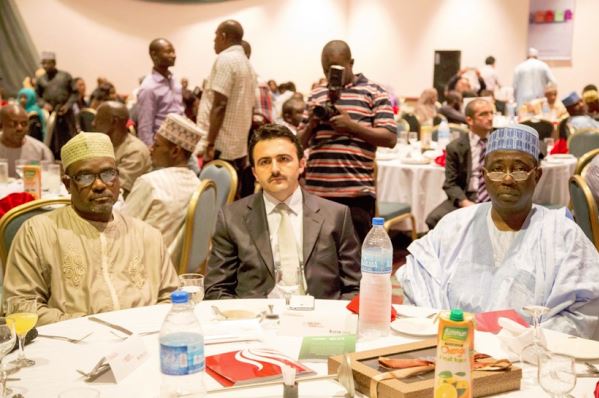 Source: Ufuk Foundation
Tags: Dialogue | Nigeria | Peacebuilding |