Date posted: December 18, 2013
ADEM YAVUZ ARSLAN
The resignation of Hakan Şükür from the ruling Justice and Development Party (AK Party) due to his unease over the government's decision to close down prep schools has shaken Turkey's national agenda.
Now, everyone is wondering whether other deputies will follow in Şükür's footsteps. Actually, the number of deputies who are disturbed by the government's prep school decision is very high, but there may not be any further resignations because it is a skill — something which everyone does not have — to be able to speak up about the truths that one believes in. It is also possible to say something else about Şükür's resignation.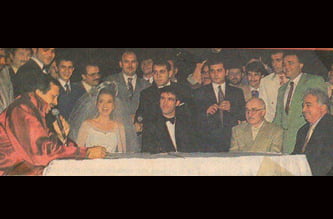 Take a look at his wedding photo: on one side of a table is Islamic scholar Fethullah Gülen and on the other is Prime Minister Recep Tayyip Erdoğan. That photo reflects the feelings of millions. Şükür's resignation is a sign that to him, that photo was torn up. If the government continues to keep up its hostile attitude against the Hizmet movement led by Gülen, millions will experience the same feeling. The real risk is here.
Source: Today's Zaman , December 18, 2013
Tags: Fethullah Gulen | Hizmet and politics | Turkey |