Date posted: August 12, 2013
ŞİNASİ ALPAGO, SEOUL
Well-respected Turkish intellectual and scholar Fethullah Gülen was awarded the Manhae Peace Prize for his contributions to world peace at a ceremony held in South Korea on Sunday.
Among the prominent recipients of the Manhae awards since they were first presented in 1997 are former South African President Nelson Mandela, exiled Tibetan spiritual leader the Dalai Lama and Iranian rights advocate Shirin Ebadi.
Introductory comments about Gülen and the Hizmet movement before the presentation of the awards stressed that students from various cultures and religions receive an education at schools opened by Gülen's followers in different corners of the world. It was also noted that these schools play an important role in the establishment of world peace.
Journalists and Writers Foundation (GYV) President Mustafa Yeşil received the prestigious award on behalf of Gülen, who was not able to attend the award ceremony due to health problems. The award ceremony took place in Inje County in Kangwondo province.
GYV's Yeşil, who delivered a speech at the event after receiving Gülen's award, said the goals and ideals of the Hizmet movement are to help people and to make lives better without expecting anything in return and to work for world peace.
"Mr. Gülen has emphasized that he is accepting this award not for himself, but on behalf of the volunteers who work for humanity and peace. I find it meaningful that this award named after Manhae, who sought to become an ideal person and who made big sacrifices for his homeland, is being given to Mr. Gülen." Yeşil said.
Yeşil also offered his thanks to the İstanbul Culture Center based in South Korea for its effort to promote dialogue, adding that the center helps establish strong bridges between Turkey and South Korea.
Gülen is a Turkish Islamic scholar well-known for his teachings promoting mutual understanding and tolerance between cultures. Now residing in the US, he has pioneered educational activities in a number of countries, along with efforts to promote intercultural and interfaith activities around the world. He has written nearly 50 books in Turkish, some of which have been translated into several languages.
Professor Lee Hee-soo, an expert on the Middle East and a lecturer at Hanyang University, talked about the peace prize being given to Gülen.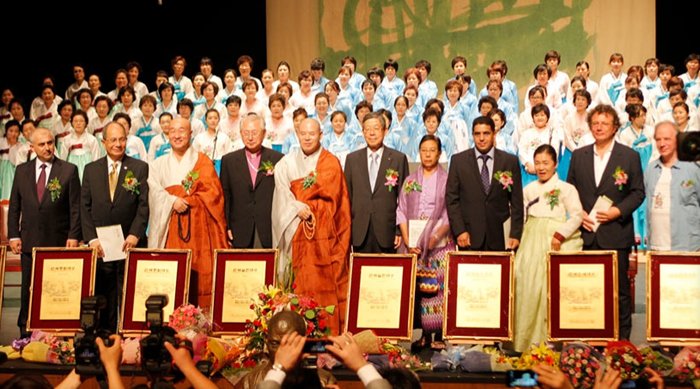 "Manhae was our leader who fought for South Korea's independence throughout his life. He is also a national poet who is loved much by the public. It is very significant that this prize is being given to Fethullah Gülen, who makes great efforts for dialogue between cultures and religions. I also think this prize will help improve relations between Turkey and South Korea," he said.
Founding President of the Asian Journalists Association Lee Sang-gi said schools inspired by Gülen make a great contribution to world peace.
"Mr. Gülen is an important personality due to his contribution to education in Turkey and across the world," he said.
Source: Today's Zaman , 12 August 2013
Tags: Asia | Fethullah Gulen | Peace awards | South Korea |