Date posted: April 17, 2017
Turkey, the transcontinental country that straddles Europe and Asia, has been witnessing tectonic shifts in recent years that accelerated after the July 15, 2016, coup attempt. President Recep Tayyip Erdogan promised a "cleansing" of state institutions that led to a tightening of his grip on power and sparked a major purge that upended the lives of hundreds of thousands of ordinary Turks. On the eve of the April 16 constitutional referendum, FRANCE 24 met with four victims of this purge.
Torn posters, crumpled by hurrying feet, swirl in the sea breeze on a busy square in Istanbul's trendy Kadikoy district. A bronze statue of a crocodile — a reminder of bygone times, when these reptiles posed a threat on this Asian side of the Bosporus — grins wickedly at the detritus of dissent on Khalkedon Square.
That's all that's left of Betul Celep's 66 days of protest.
Every afternoon from January 23 to March 28, Celep arrived at the square wearing a white traffic waistcoat emblazoned with the words, "İşimi geri istiyorum" – Turkish for "I want my job back". Through sunshine and the shivering Istanbul rain, she stood there as supporters — many of whom had also lost their jobs in Turkey's great purges — arrived to cheer her on, encouraged by the young woman's sheer guts and charisma.
Celep, a former researcher at an Istanbul public works planning office, is one of an estimated 130,000 people suspended or sacked from public sector jobs since the July 15, 2016, coup attempt over allegations of links to "FETO" (Fethullah Gulen Terrorist Movement). Turkish President Recep Tayyip Erdogan has blamed the US-based Turkish imam for the coup plot, a charge Gulen denies.
A secular feminist, leftist, and trade union activist, Celep finds the allegation that she is in any way linked to the Islamist Gulen movement ludicrous.
Instead, she believes she has been targeted for her trade union activities and her involvement in the labour rights movement. She notes that shortly after her suspension, when she confronted her boss: "He told me he doesn't want any Socialists in the government or government offices."
Ahead of the April 16 constitutional referendum — which if passed, would grant Erdogan unchecked powers — critics have accused the president of lumping diverse opposition groups together in his crackdown to "cleanse" Turkey of the "virus" that has infected state institutions.
But Celep has turned the infectious disease metaphor back at the president. "A foreign journalist once asked me if I had to describe Erdogan in one word, what would it be?" she recounts. "I said I would describe him as a bacteria. He's small, he's alone, but he can be quite a problem," she laughs.

An unimposing 32-year-old dressed in a purple winter coat and matching sneakers, Celep looks like a carefree student, with her orange backpack, as she walks home from Khalkedon Square, past bars and cafes in this trendy part of town.
But she can be a formidable opponent, and her incredibly brave public resistance has turned her into a mini-celebrity in the hood. As she makes her way down the narrow streets of Moda, Kadikoy's happening, artsy area, passersby recognise her and nod a greeting.
On Gunesli Bahçe Street, she stops by the Son Gemi ("Last Ship" in Turkish) bar to pick up some of her protest posters and flyers. Over the past 66 days, she used the basement of the bar to store some of her protest paraphernalia since the Son Gemi is closer to the square and it was much easier to pick up and drop the materials every day.
It was in this wood-paneled bar, plastered with pictures of Che Guevara, Frida Kahlo, Bob Dylan and other folk and resistance heroes, that Celep received the shock news of her suspension.
It was Friday, January 6, and Celep was having a beer with her friends, when someone in the bar discovered her name in the Official Gazette. The Friday night publication of the Official Gazette has been the subject of macabre jokes over the past few months in some Turkish circles. The midnight decrees, published at the start of the weekend, have featured the names of thousands of public sector employees suspended for their FETO links.
That would explain Celep's response to seeing her name on the list. "I started laughing," she recounts, taking a drag on her Kent cigarette. "I said I must have done something good because we leftists joke that if this government targets you, you've done something good."
Everybody in the bar toasted her, she recounts, and as she looked around at the smiling faces in her beloved drinking spot, she reached a decision. "I told myself I would resist," she says.
The next day, she informed her parents, who live in Ankara. They were alarmed. "My father and mother told me to come back home, but I refused," she says.
That well-meant comment got her thinking. These purges were on such a massive scale, they seriously affected the lives of innumerable Turkish women, she realised. "Women have been much more affected by this than the men," she notes. "If a woman loses her job, her parents will call her home, her husband will tell her to take it as an opportunity to stay home, and all the gains she has made can be rolled back."
Since she started her resistance, Celep has spoken to a number of working women who moved to Istanbul from the provinces. After they lost their jobs to the state's purges, many of them encountered renewed pressure from their families to come back home and give up their career dreams.
Even before the July 2016 coup attempt, Turkish women's hard-fought rights were being steadily chipped away in a climate of increasing Islamist conservatism. Erdogan has maintained that women are not equal to men, sparking ire in feminist circles. He has also urged Turkish women to have at least three children, calling women without children "deficient" and "incomplete".
The stakes for Turkish women, Celep realised, have never been higher. She felt she had to do something about it.
Over the next two weeks, she carefully deliberated her choices, reaching out to women's groups, sending emails on feminist chat groups, soliciting ideas and advice.
Celep's past activism proved critical at this stage. She reached out to NGOs where she had done voluntary work – such as Purple Roof, which runs shelters for victims of domestic abuse. Their response was overwhelming. Her friends in the movement were overwhelmingly positive. What Celep was contemplating was critical, they maintained. She had their support.
The "what" had been decided: Celep's focus would be to draw public attention to the senselessness of the purges, how they have affected women, and to bring women together to share their stories.
Then came the "where". She initially considered holding her protest outside the office from where she was fired. But the building was near the Ataturk International Airport, a high security area, and not the best location for drawing crowds.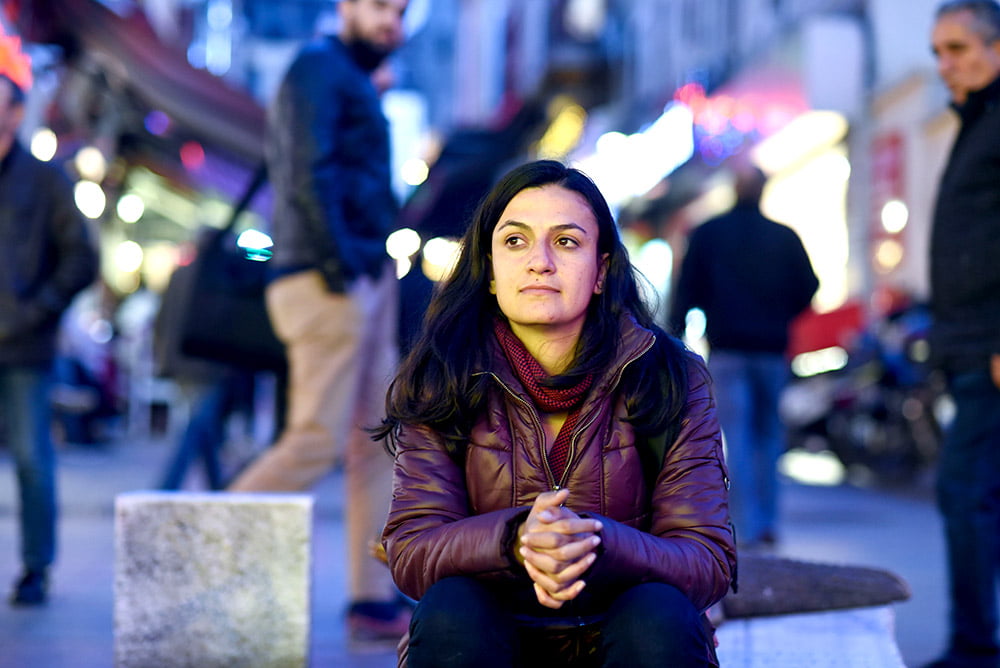 That's when she decided on Khalkedon Square in the heart of Kadikoy, a bastion of Kemalist opposition, and a five-minute walk from her apartment.
When she told her anxious parents about her plan, their response was exasperating. "My father told me that it was no use protesting publicly, that it would not bring my job back. Sometimes I had the impression I was hearing the government when I was listening to him, because my father is a supporter of the CHP (the main Kemalist opposition party)," the young woman explained.
Secular critics of Erdogan, particularly the youth, are frustrated with the CHP, which they criticise for failing to put up a robust opposition to the Turkish strongman. In the lead-up to the April 16 constitutional referendum, opposition activists have been complaining about the lack of resources, leadership and dynamism in the "Hayir" – or "No" – campaign.
But while her parent's reactions were initially annoying, her mother is now quite proud of her daughter. As word spread on social media and her protest began to attract coverage in the opposition press, her mother, she says, has been proudly telling family and friends, "That's my girl."
The youngest of three girls, Celep has always been politically engaged – at least as far as she can remember.
That gave her the courage to accomplish what few people in her situation only dreamed of doing.
It took guts, on January 23, the first day of her demonstration, to stand out there in the square.
Celep arrived at the square with a group of friends and started demonstrating. Then the police arrived. She knew there could be trouble. "The police asked me what I was doing there. When I told them, they asked me to read my statement to the people and leave. But I refused," she reveals.
"The next day, hundreds of police came in and stood around the square… and I felt very important," she concludes with a wicked twinkle in her eyes.
Celep is putting on a brave face. There's little doubt that a protest like hers in a country like Turkey, particularly under a state of emergency, would merit some police pressure and she was prepared to confront the situation.
But the intense police attention has affected her relationships.
When asked about her private life, the attractive, single woman chortles. "I have no private life," she says. "My feminist work, my labour rights work, my volunteer work takes up all my time."
But in her Moda apartment, surrounded by her three cats who command the space, she reveals her more vulnerable side.
Opening the door of the guest bedroom in the two-bedroom apartment, she explains that she doesn't have a roommate anymore. Her former roommate, a close friend, suddenly left the apartment because she couldn't handle the constant police surveillance. Security officers had taken to hanging on the streets around the apartment, drinking coffee in the café downstairs, and making no attempt to conceal their presence.
But her friend, she says, never told her that it was all getting too much. "She just left and then days later she called and made some excuses, but she never told me the truth. That hurt," she says.
Entering the guestroom, Celep sits on the empty single bed, pets one of her cats, and continues, "The night she left, I returned home, walked into this empty room and cried," she confesses. "It really felt like the government's hand had entered this place. It had stretched into my home, my life. That's when I really realised that the government can have an impact on my private life, on my relationships, and I felt horrible."
The room, plunged in darkness, is now used to dry the linen. "I feel the presence of the government in this room," Celep shudders, before closing the door.
Back in the living room, the cats compete for her attention, loyal to the end. She feeds the cats and then it's time to leave again.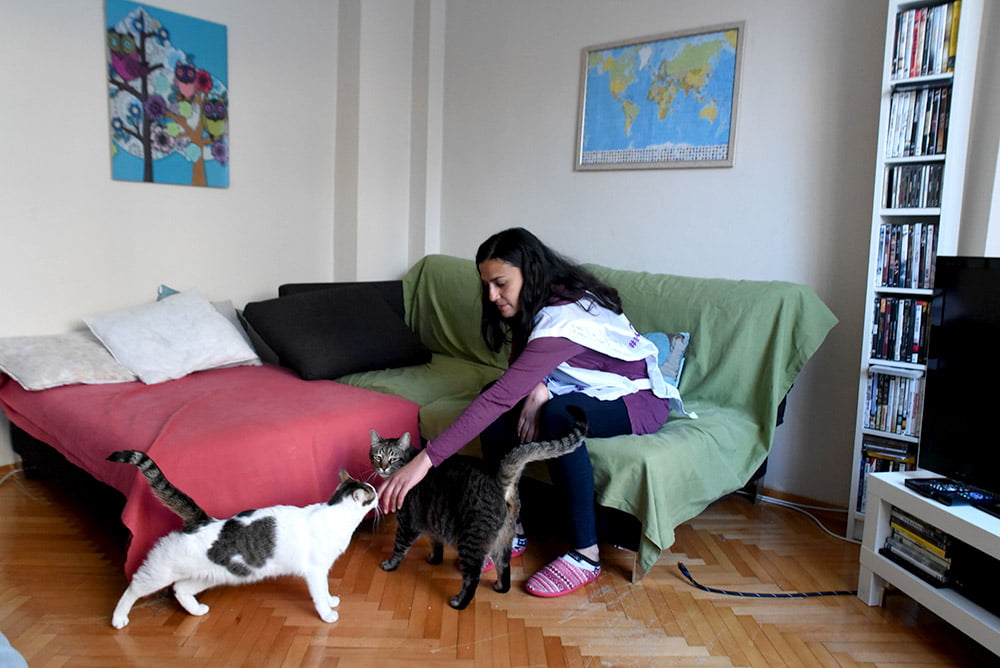 Celep has ended her protest on the Kadikoy Square, she says, because she succeeded in her aim to draw public attention to the problem and establish solidarity circles.
She now wants to concentrate on the upcoming constitutional referendum.
She's campaigning for the "Hayir" camp and the struggle, as she sees it, will continue – albeit in a different form.
Now that her days of demonstrating in the square are over, "It could get more difficult, more lonely. But I will continue, there's no choice. If I stop, I will fall."
---
Credits
A report by Leela Jacinto for France 24
Texts: Leela Jacinto
Photos: Mehdi Chebil
Editor: David Gormezano
Copy editor: Charlotte Wilkins
Editor-in-chief: Sylvain Attal, Marie Valla
Graphics and development: France Médias Monde Graphics Studio
---
Other Episodes
Turkey, The great purge – Four lives upturned by Erdogan's 'cleansing.' Episode 1 – Asli
Turkey, The great purge – Four lives upturned by Erdogan's 'cleansing.' Episode 2 – Mehmet
Turkey, The great purge – Four lives upturned by Erdogan's 'cleansing.' Episode 3 – Omer
Source: France 24 , April 13, 2017
Tags: Democracy | Human rights | Military coups in Turkey | Turkey |