Date posted: January 25, 2016
MEHMET GÜL | TORONTO
The Intercultural Dialogue Institute (IDI), a group founded by Canadians of Turkish descent, has presented its first peace and dialogue awards at a ceremony in Toronto.
The award ceremony, which took place at Toronto's Fairmont Royal York Hotel on Jan. 19, was attended by Lieutenant Governor of Ontario Elizabeth Dowdeswell, Toronto Mayor John Tory, Mississauga Mayor Bonnie Crombie, as well as parliamentarians, academics and representatives of civil society groups.
Canadian Prime Minister Justin Trudeau and Premier of Ontario Kathleen Wynne sent messages to the event, congratulating IDI for its works and contributions to Canadian society.
In his message, Prime Minister Trudeau underlined that peace requires efforts be made, and praised IDI for its works and leadership toward that goal.
The Inaugural Peace and Dialogue Awards was presented in cooperation with the Institute for Canadian Citizenship. Renowned scholar Stephen J. Toope, the director of the University of Toronto's Munk School of Global Affairs, delivered the keynote speech of the event. "Practice inclusion daily, weekly, monthly, just like learning to play the violin," Toope said in his address.
He also praised the IDI, saying it has been fulfilling a key mission in promoting tolerance and dialogue among peoples of different cultures and faiths.
The recipients of the peace and dialogue awards included filmmaker and director Andrée Cazabon, who was presented the Distinguished Leadership Award.
Dr. Hamid Slimi, a prominent Canadian imam recognized for his contributions to interfaith dialogue, received the Interfaith Award at the event, presented by Mississauga Mayor Crombie.
The Community Service Award was presented to Lifeline Syria group by Mayor Tory for its works on assisting Syrian refugees in Canada.
Another award winner group, the 4Rs Youth Movement, was presented the Youth Award for its works on educating young people.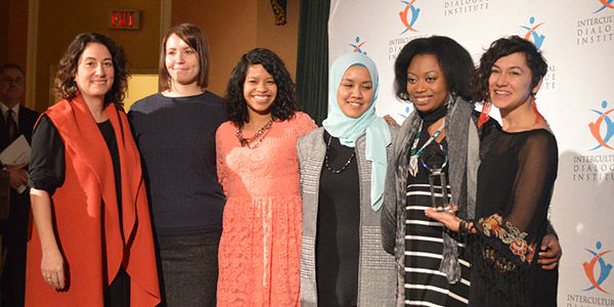 Fatih Yegül, the executive vice president of IDI Toronto, said the IDI was founded with the goal of serving the society and promoting social cohesion. This year's awards, he said, were presented to individuals who dedicated themselves to peace, dialogue, tolerance and service to humanity.
Ignorance and prejudice could be overcome by education and dialogue, he said.
The IDI, founded by Turkish Canadians inspired by the teachings and example of Turkish Islamic scholar Fethullah Gülen, was formed in 2010 as a joint effort of several organizations, and currently has 11 chapters and regional offices in the major cities of five Canadian provinces.
The institute does not call itself a religious or ethnic organization, underlining that it aims to facilitate dialogue on a whole range of social issues, regardless of any particular faith or religion.
Source: Today's Zaman , January 23, 2016
Tags: Canada | Dialogue | Peace awards | Peacebuilding |