Date posted: November 17, 2013
On October 24th, Niagara Foundation's Michigan chapter held its 3rd Annual Peace and Dialogue Award ceremony with the participation of numerous distinguished guests.
Carol Cain, journalist for Detroit Free Press and a senior producer for CBS, emceed the event at Woodward Ballroom of Embassy Suites Hotel, Southfield. In attendance of the ceremony were a large number of politicians, religious leaders and prominent figures around the state. At the event, the individuals and institutions that have presented outstanding efforts in the fields of education, peace, media and community service were awarded.
Dean Dr. Donald Heller received education award on behalf of Michigan State University, College of Education. Its academics got a special mention in the part that the college's contributions to the state were highlighted.
The recipient of peace award was Interfaith Leadership Council of Metropolitan Detroit represented by its Board of Directors Chair, Robert Brutell. Having received the award from Warren Mayor, James Fouts, "Niagara Foundation keeps seeking ways to achieve coexistence all the time. It's of a great importance in our lives. Today's world encompasses a great diversity and plurality. And Niagara Foundation is working in line with that," Brutell remarked.
The media award honoree, Rochelle Riley of Detroit Free Press, said "It's a great honor to be connected with Niagara Foundation and to receive this award. Niagara Foundation is carrying out peaceful and all-embracing initiatives. These initiatives deserve to be promoted and recognized. And I'm very enthusiastic about contrib uting to them."
"What Niagara Foundation has been doing is to bring people together and form peaceful dialogue, which I truly support. Besides, I feel honored to be a part of these efforts," the award presenter Southfield Mayor, Brenda Lawrence, remarked.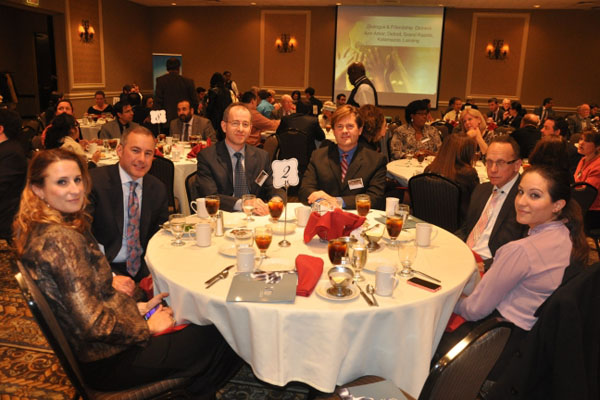 Finally, the fourth category, community service award, recipient was Gleaners Community Food Bank. President DeWayne Wells received the award on behalf of the institution. In his remarks, Wells highlighted contributions of his food bank and Niagara Foundation in overcoming the state's hard times. He further said it's an honor to receive Niagara Foundation's community service award and to be among nominees.
Among the event's guests, Michigan Senator, Steven Bieda, said, "We need more of institutions like Niagara Foundation in our state. I've been familiar with the foundation for the past few years. I had the opportunity to join a couple of occasions at the state assembly. I was invited to a trip to Turkey as I got to know the foundation closer. I was absolutely delighted by hospitality of Turkish people. Then I came to understand this great foundation's goal: Niagara Foundation is seeking to foster global peace and mutual understanding among diverse cultures and communities. Not only this country, but the entire world as well needs such institutions. Because they are doing great work. I would like to thank everyone involved for having me here tonight. "
The night was concluded with attendees' posing for pictures.
Published [in Turkish] on Zaman Amerika, November 8, 2013
Source: HizmetMovement.Com , November 17, 2013
Tags: Dialogue | North America | Peace awards | USA |